I love to be frugal and love to entertain. However, the two often do not go hand in hand, so I knew I had to think of a thrifty entertainment idea. What I have been doing for several years now, is serve a single food, cookies, and simple beverage (such as ice tea) and ask for gifts.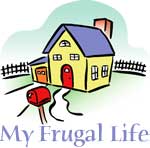 But, the gifts are not for me, they are for others. The invitations I send out explain it all and contain a wish-list and sizes.
The first year, I had a "Potato and Princess Party." It was simple, I served baked potatoes with several toppings and tea. Very inexpensive. I adopted a 3 year old female Christmas angel. I put her wish list on the invitations and asked each guest to bring an item for her. She was being raised by her grandmother, so I also asked for a canned good or house-good item for the grandmother.
That year, the "princess" got books, underwear and socks, boots, a new coat, blanket, dolls, toys and several clothing outfits. The grandma received a clothes basket full of laundry soap, and canned goods. The party was a hit, and the expense of making these two happy at Christmas was not the burden of one person.
Another year we did "Soup and Superman" for a 5 year old boy who loved Superman. During the summer, I did a "Salad and School Supply", and after a local family had a fire and had to relocate to a new vacant house we had a "Bonfire and Bedding" party. I supplied hot dogs and buns and people bought bedding, linens, and much more.
I do the parties as a sort of open house - come and go between 5 and 9. If it is for Christmas, I play Christmas music in the background. Guest bring their gifts unwrapped and wrap it while at my party with paper I buy on clearance the year before after Christmas.
Since the gifts are arriving unwrapped, any duplicate items are spotted and put into a separate pile. Those gifts I give to Family Services or Angel Tree to be passed on to another child who may not have been picked. I am sure to label those with the item name and size.
This is a great way to celebrate the holidays or the end of summer without spending a lot of money, give to others, and also teach others to give. I have several friends from where I used to live that are now doing this since I moved away.
Some years, I have had people also give me used items in the same size range as our adopted angel. Those items I gave to their social worker and asked them to pass on to the family after Christmas.
By mom-from-missouri from NW MO
Do you have a frugal story to share with the ThriftyFun community? Submit your essay here: http://www.thriftyfun.com/post_myfrugallife.ldml