June 2, 2008
0

found this helpful
Best Answer
If I were you, I would resort to carefully placed strips of flypaper! and perhaps set up a screened-in area? Nowadays there are tent-like enclosures with screens available. Also try to burn incense and or use citronella candles - flying insects don't like smoke.
June 18, 2017
0

found this helpful
I am in the same boat. We use listerine and eucalyptus to heather and spray before and after ppl eat. It seems to help but not a fix. We put a screen up porch and fans that helps too.
By guest (Guest Post)
June 2, 2008
0

found this helpful
Best Answer
We were just given an electric bug zapping machine for the back yard. It seems to attract all sorts of insects. The key is to place it at a distance from the area you wish to keep bug free so they will be drawn from it to the zapper.
I also recall a fly killing bait we used to see at a local farm and garden store (Southern States/Agway.etc.) called Golden Malrin. It is used in horse stalls to attract and kill flies after they feed on it. Check regarding your state laws first as to how close it can be used to food areas. All the best!
By guest (Guest Post)
June 3, 2008
0

found this helpful
Best Answer
Ok Thank you! Everyone! The pull down tape rolls work really well but not very attractive to the customers. The bait works great, but it is only temporary(and we are able to use it "outside"). We will be purchasing bug zapper machines as well! These bugs are really really bad! We have had the big industrial fans; I think we just need to use everything. They all work but not 100%, so maybe if we use them all the bugs will be gone! Thank you again so much!
By guest (Guest Post)
June 2, 2008
0

found this helpful
What about hanging up one or maybe 2 industrial fans up high blowing on the area closest to the tables and customers to try to blow them away at least at a distance while people are dining. Just an idea and dollar store sells those rolls of sticky pull down tape rolls to catch flies hang them near or even on the dumpster walls. They are like 4 for a dollar at the dollar store.
June 2, 2008
0

found this helpful
I don't know if this will work for flies, but it ALWAYS stops mosquitos from coming near, so it's worth a try: Put REGULAR Amber colored old fashioned Listerine mouthwash in a spray container & spray the area (like a deck) around the eating area, then also spray any picnic tables & tablecloths.... This needs to be done every other day as the Listerine will only work for 2 days (unless it rains, then you'll have to repeat the spraying after it rains) You're customers won't be able to smell the Listerine, but the Mosquitos WILL & hopefully the flies will also stay far away! ...I recommend you buy the Listerine (NOT mint flavor or citrus flavor, buy the regular Amber color!) at Walmart or on sale... Most people will spray the Listerine for a party on their backyard decks (They'll spray the actual wooden deck) to rid the area of mosquitos, so they will use a simple spray bottle, but if you have a larger area, I recommend you use a garden sprayer. You can find these for around $12... But I'd do a test area first. Spray one table that's not near the others with the Listerine & see if this helps. But one things for sure, at least the Listerine will keep away the mosquitos! Please send mail to my account here at ThriftyFun & also post here so we'll all know how this works for flies. ---> GOOD LUCK <---
December 5, 2016
0

found this helpful
Use viniger and spray around even the tables.
June 3, 2008
0

found this helpful
I know this sounds crazy, but it works. Take a gallon ziploc bag and fill it with water, you can also add a penny. Wrap duct tape around the top and put a rope in the tape to hang the bag up. For some reason the water bag keeps flies away. You will probably want to make a couple if you have a large area.
good luck
By guest (Guest Post)
June 3, 2008
0

found this helpful
I think the idea of fly paper strips might work. My idea was to spray the area with Yard Guard (brand) before your customers come to eat. It lasts for several hours.
An electric bug zapper is what is sometimes used here in PA where people eat outside. The only other idea I think will work is to buy some of those screen houses used for camping for around the picnic tables. Or screen in the entire area so its similar to a screened porch.
June 3, 2008
0

found this helpful
A neighbor of mine (who has since moved) had a bug zapping machine with a purple light that glowed in the dark. We could see it across the alley and over the fence. It would make a small 'zap' noise every time a bug entered. Possibly you could check into these machines - deductible as a business expense on your taxes.
My other thought is that you could make an area that is attractive to flies - like a decoy - that would be far away from the diners and this would attract them and keep 'em away from the diners.
By guest (Guest Post)
June 4, 2008
0

found this helpful
(Guest Post) | Post Status: active | Date: 2008-06-04
We have many flies and bugs here in Africa! The only thing I seem to have found that works is Citronella. I have bought this as a bottle of oil and with a paintbrush, brushed it on my outside furniture, trees, fences, anything! It's environmentally friendly and gives off a pleasant smell. You can also buy citronella candles nowadays. I light these when we sit outside at night to help with mosquitoes.
By guest (Guest Post)
June 4, 2008
0

found this helpful
Mosquito Spray...Worth a try
I was at a deck party awhile back, and the bugs were having a ball biting everyone. A man at the party sprayed the lawn and deck floor with Listerine, and the little demons disappeared. The next year I filled a 4-ounce spray bottle and used it around my seat whenever I saw mosquitoes. And voila! That worked as well.. It worked at a picnic where we sprayed the area around the food table, the children's swing area, and the standing water nearby. During the summer, I don't leave home without it. Pass it on.
OUR FRIEND'S COMMENTS: I tried this on my deck and around all of my doors. It works - in fact, it killed them instantly. I bought my bottle from Target and it cost me $1.89. It really doesn't take much, and it is a big bottle, too; so it is not as expensive to use as the can of Bug-spray you buy that doesn't last 30 minutes. So, try this, please. It will last a couple of days. Don't spray directly on a wood door (like your front door), but spray around the frame. Spray around the window frames, and even inside the dog house.
Now these are Good Mosquitoes!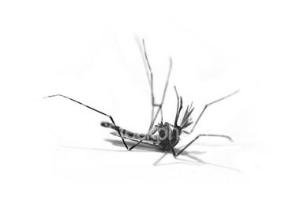 By guest (Guest Post)
June 26, 2008
0

found this helpful
I was once eating crabs in Maryland. The flies were swarming. When I tossed Old Bay Seasoning on the crabs, they flew off. Then I noted that they swarmed the bucket with the used nutcrackers, etc. I tossed Old Bay Seasoning in the bucket and they took off from there, too. I suspect that the originators of Old Bay created it as much for a good hot pepper flavor as for a way to send flies packing so they could eat their crabs in piece.
I don't know where you could toss Old Bay in your restaurant. But it might be worth a try to use it as part of the decor. Zen rakes on wooden palates of Old Bay seasoning?
Michelle
August 29, 2011
0

found this helpful
You could try a Manitoba Fly trap. There are instructions to build one on the internet. Various flies see it as a moving animal. It is a pyramid structure with a black ball hanging down the middle. The flies get in the structure then fly upward into the trap. Seems to work for the biting flies. If you have filth flies, there are bags or plastic bottles that catch them. A small amount of hamburger or fish in water attracts them. Smelly things to dump or just pitch them out.