Best Answer
Our cat used to like to play with her water bowl, too. Since I kept it on a small rug, I just stuck some Velcro on the bottom of the bowl & it stuck to the fibers in the rug. She had to stand on the little rug to get to the water bowl, so when she pawed at it, nothing happened.
I think this is just a cat thing. When I cat sit for our daughter, I put his water in a small cool whip container and set it into a deeper container. In the deep container, I have 2-3 pounds of lead weights. He probably would not be able to turn this over but just to make sure, I have this setting in a pan.
I think this cat just gets joy out of turning the water over. Since I got this set up, he has not been able to do it.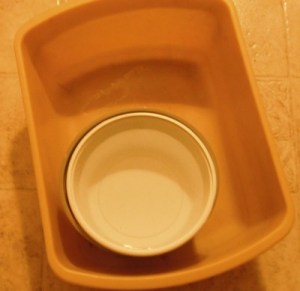 One of my cats used to do the same thing from the first day she was in the house. About three days after her adoption and watching her tip over yet another bowl of water, I jokingly asked her if she might prefer my bottled water and I poured some into her water bowl-she drank it all down as though she was parched.
I think she was not happy with the strong chlorine odor of the city tap water. I was drinking and cooking with bottled water because our house at the time had lead pipes and I was in the process of changing out as I could afford to. I'd never really noticed how strong the chlorine smell was, but that cat sure did-I took a close up whiff and felt like a real heel for asking her to drink that awful stuff.
After I finally got all the plumbing changed out, the tap water still had a very strong chlorine odor so the cats and dog never got tap water again.
My cat, Snickers, does something similar. I have 3 cats & use a Fiesta vegetable dish for their water dish. It's stoneware & when it's full, it's fairly heavy. Even so, Snickers always paws at the rim, lifting the bowl slightly, making it ring against the floor (tile over concrete). He's a big boy & fairly strong. He's the only one who does this. He does it even when I have washed the bowl & changed the water, but more so when it's dirty or warm & needs changing. It gets dirty because he also puts his paws in it!
I thought he does these things because maybe he can't see the surface of the water, so he makes it slosh so he can be sure it's there? I haven't really been able to figure it out. Our tap water doesn't smell or taste bad to me, but maybe he smells the chlorine & fluorine in it & that's his way of objecting? Perhaps I'll try filling the bowl from my Brita pitcher in the fridge and see what he does. Maybe he's trying to tell me something, or maybe he's just being a character!