Being frugal or thrifty is more a matter of common sense than anything else in my mind. There are so many ways it is possible to save money, but it does require making small changes in the way things are usually done in our busy, hectic world.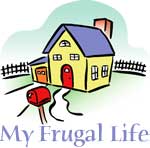 One way our family has dealt with this need is to view movies from our home, rather that spend money at the theater. We have a collection of movies we can choose from and share with other family members, who also share with us. The city library also has movies to choose from for FREE! This is nice, because we have been exposed to movies we never would have had the opportunity to view otherwise.
To swap clothing is a great way to save money, especially among extended family and friends. We don't purchase clothing from malls anymore. Clothing can be recycled or upcycled into many useful articles. We continuously recycle textiles, making do most of the time with things we already have lying around the house, such as old bedspreads, rugs, curtains, etc.
Meals and food preparation are another area we have had to make some changes in. We have a genetic problem in our family, and cannot eat most foods others without our problem are able to consume. Because we can't consume gluten in any form, we are eating more whole foods, no processed foods and no junk foods at all. Gluten is the protein found in the grains, wheat, barley and rye. We can't have oats, due to cross-contamination.
Since we can't consume these things or any products containing them, we can't eat in restaurants or most fast food places. This has proven to be a blessing in disguise, saving us a lot of money! We are making healthier food choices and are much more aware of how our money is being spent. Because the gluten free foods we must purchase are very expensive, we take greater care in what we do purchase. This awareness has not only been in the foods we buy, but it has made us think twice if we really need to purchase some of the things we had been so conditioned to believe we needed. Since we don't feel the need to be so consumer oriented, we feel less stress and daily living seems more simple!
By Monica from Cortez, CO
Do you have a frugal story to share with the ThriftyFun community? Submit your essay here: http://www.thriftyfun.com/post_myfrugallife.ldml