February 9, 2008
0

found this helpful
I live in Houston and while I've never had 'possum problems i am reminded of the time that the golf course behind our condo had to call Texas Wildlife Commission to come get the 8 foot gators out of the water hazards. Why don't you try them? They might even come and get them since 'possums are wild. BTW they didn't kill the gators, just carted them off someplace.
February 10, 2008
0

found this helpful
My parents had a raccoon infestation in their roof a few years ago. They tried everything, moth balls, live traps, legs trap, sitting outside with a gun even. There has always been a opossum problem with the cat food left outside for the various strays.
The only thing that worked, for either of them (even the giant bull mastiff left outside didn't scare them!) was a clock radio turn up all the way to a talk radio station, it has to be speech or obnoxious music, no classical or something easy to ignore. It was placed in the attic and left on all the time, it was a plug in type, not battery operated. When placed at the other end of the house from the bedroom you couldn't hear it until you go to the other end of the house. However it scared off the wild life, didn't hurt anyone, and the cats would put up with the sound.
So try putting some sort of radio with speakers near the problem area. They were able to remove the radio for a year before the raccoons decided to try again, but they live out in the country so the raccoons didn't have many options.
P.S. It's important to get them out of your roof as soon as possible. Once they find a good nest they'll continue to come back. They will also use your roof as a potty, and it soaks through drywall eventually, causing holes for them to look through into your house, very scary! Also, they mess up the insulation so you loose heat and spend just that much more money because of them.
By guest (Guest Post)
February 11, 2008
0

found this helpful
Get a large live cage, place a peanut butter sandwich inside for they love peanut butter and wait. Soon you can deposit them free in a environment right for them.
March 14, 2008
0

found this helpful
When I worked for animal control, the head of it told me that possums do not get rabies, so it was safe to reach out and catch them. Possums are not stubborn or beligerent; they merely have horrible eye sight (rely on their sense of smell) and are very shy which is why they turn and try to hide in a corner. We caught one in our yard and put it in a cage to take out to the country and let go. While in the cage, I scratched behind its ear, and it snuggled up to the side of the cage and acted just like a cat, only more shy. The hardest part of getting it out of the cage was that it was so scared that it wrapped its tail around one end of the cage and refused to let go. We put the end of the cage in water, and it swam out and ran to safety. Please don't be mean and beat them to death with a broom (I've seen many do this). Once you get them out of the attic, be sure to seal off all holes so they aren't able to find their way in again.
January 10, 2010
0

found this helpful
While riding my harley down a road I never had been on before I saw a possum that had been hit by a car. As I drove slowly by it because I cant stand to see any animal die or suffer I saw something about 2 1/2 - 3 inches on top of her. I turned my bike around and saw it was a baby trying to get to her mammas teat.
4 Babies that didn't survive laid next to her, so I dug in her pouch and found 5 more babies alive. I put them in my saddlebags and went straight home. Got on the computer and found out how to take care of them so I had 6 little mickey mouse looking babies for 3 1/2 weeks, hand fed, used a warm washcloth to rub their stomachs lightly, this helps digest their food and go poop, (a replacement for their moms licking them to get their stomachs active) then I gave 5 to a wild animals rescue and kept skeeter.
They say they live 2 years but she lived almost 3 1/2. They do not have or get rabies because their blood temperature is to low. Anyways I made her her baby habitat and a little Harley hammock and when she got big we took our big closet took off the doors, I painted a palm tree, we built levels and ramps up to her now adult hammock and she loved it. I could nibble on her ears, kiss her face, she loved me to rub her little feet which are like little human hands. My mom watched her on my weeks vacation and when i came home she grabbed me so tight and made little crying noises.
We would take her to mc donalds for her own hamburger and fries. She loved them. After 3 1/2 years she got cancer so bad I had to have her put to final sleep and that still tears me up to this day. She was my baby and I will always love her. I'm showing a picture now but be sure to check out the contest because I have entered her in that. Here she is, a fat sable teddy bear. Skeeter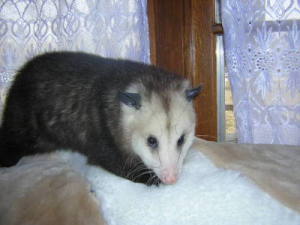 June 12, 2016
0

found this helpful
I have one in my bathroom vent and i could never ever even think about keeping one as a pet. They look like huge rats and that's gross but i give u props 4 ur bravery. I've been trying to get someone 2 come out and get it out of the vent. They still haven't came yet and I put in a work order at 5:30a.m this morning. Help please
September 21, 2016
0

found this helpful
Well, I feel for any animal but I have to say how scared my son and I was tonight when we duscovered one down inside his ac vent in his bedroom. ( we rent a mobile home in southwest texas.)
And I have no idea of what to do other than having a very heavy object covering the open hole that did have a non attached vent cover....