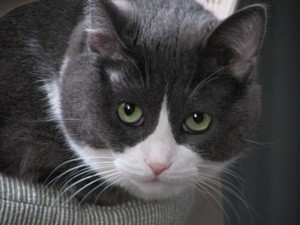 Rachel the Cat
Rachel is my six year old cat. She is a Domestic Shorthair. Rachel was a homeless kitten living on the one story flat roof of a business next to my home with only an overhanging tree to protect her from the elements. She would cry and cry all the time. Winter was coming so I finally coaxed her down and she decided she owned me :-)
She ended up having a rare lung parasite from eating raw shell fish from the trash cans and was on antibiotics for four months so I am very thankful she wanted a home because she would not have lived for more than a couple of months otherwise.

She is now a fat and happy sixteen pounder who does not even want to go outside and sleeps with and follows her mommy everywhere.

Rachel loves her many kitty nip pillows :-) For some reason people think Rachel's eyes make her look like a meany but she's the sweetest fraidy cat I've ever known :-)

By Deeli from Richland, WA

Answers:
Rachel the Cat
What a beautiful cat! Thank you for saving her. She reminds me of the blk and white tuxedo kitty we had. Her name was Mandy. We got her when she was 3yrs. old. She lived to the ripe old age of 22.5 yrs!!!! ( Amazing since she was an indoor/outdoor cat till we moved to town a couple years before she died.) Please give Rachel some pets for us.
Grandma Jan and Kato the Wonder Dog (08/18/2008)

By jan king
Rachel the Cat
She is adorable and bless you for taking her in to your home. She looks very special. (08/18/2008)

By Julie
Rachel the Cat
Oh, I'm glad you found each other! She's a beauty! (08/18/2008)

By Stacey Silva
Rachel the Cat
I can't imagine anyone saying they don't like your kitty's eyes, they're magnificent. What a beautiful cat - I'm so glad you rescued her, and that you and she are such good friends. Enjoy each other!
Leah from Down Under (08/18/2008)

By Leah from Australia
Rachel the Cat
She is so pretty, I am glad that you both have one another. You both are very fortunate. I have a precious little pus also. Well she is not little she is about 22 pounds of pure love. She is the sweetest cat I have ever had. She has never hissed, attacked, or scratched us. All she wants is love and attention. Just like your Rachel, Pookie likes to follow me around the house also, she also likes to lick me. I just love her.
I hope that you gals continue to have a beautiful life together.

Bye the way, do you have any tips on how I can get pookie to lose a few pounds? I have tried Science Diet Light, but she just seems to stay the same weight. She is spade, would that have anything to do with it?

Give Rachel kisses, and pets from Pookie and I. (08/18/2008)

By 1bigmama
Rachel the Cat
She is gorgeous and thanks for rescuing her! I have 16 rescued cats(all spayed/neutered) plus 4 foster kittens, very sick. I'm so glad to hear about people like you!
(08/18/2008)

By mary
Rachel the Cat
A bundle of love! (08/18/2008)

By lavonneann
Rachel the Cat
Pretty, and healthy, kitty. No doubt you are not a sushi eater. (08/18/2008)

Rachel the Cat
What a beauty!! She picked just the right mommy, best to you and your baby. (08/20/2008)

By Leann
Rachel the Cat
Hi Deeli, Rachel looks a lot bigger than I expected. She's a treasure. Here is a picture of ZsaZsa our cat that was 26 when she went to 'Rainbow Bridge." She was a great cat. I hope we'll be joined with her. Ginger and Herbie when our time comes. And Buddy too. Great Granny Hugs, Vi (08/26/2008)

By Vi Johnson