Know what you have cash in your checking account for the month. Without a credit card for dentist, doctor and monthly emergencies for the kids, I never was able to budget cash for those emergencies.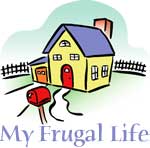 So, it was either pay partial on a phone, electric or food bill or every time I got a raise, even if only amounting to $5.00 a month after the increase in health insurance and/or taxes, the extra went into savings.
Never get used to extra money or raises, on a daily basis. Put it into a bank, different from your checking account if your tempted to easily transfer every month into daily living. Make it difficult to reach, but readily available for that cash deserving emergency.
Once the media and economists would recommend having a $1000 reserve in your saving for these emergencies (even with credit cards) but I was never able to accumulate much more than $200 or $300 hundred dollars before the dental or appliance breakdown occurred. But, a refund from taxes or a pay raise, got me through a lot of those daily crisis that had to be paid cash.
Buying my first home was the best investment I ever made. But, my objective was different than many young people today. My desire was for the girls to live in a neighborhood and have a stable environment, even though I had recently divorced. At the time, GI Loans were assumable and I had exactly $4000 dollars after the divorce, to save or spend. But, it would be without child support and wasn't much, even by housing prices in the 70's. So I searched for weeks and house hunted for sale by owners, looking for a assumable loan.
I didn't have a job, didn't have credit and didn't know much of anything, but knew I could babysit, clean houses, work as a waitress whatever as long as it was honest, and was close to a college or night school. So, the house was strictly a matter of neighborhood normalcy, price and conditions of purchase. I found it in a visually dull, nondescript, fixer upper. Assumable, 4% GI Loan (1973) and need of paint, carpet and numerous other things I thought I could do. Same monthly payment as the apartment the girls and I were living in, in another city at the time.
Sometimes ignorance is bliss because things I couldn't fix did go wrong. The heater, the swamp cooler, the roof caved in years later while my company went on a wild cat strike. But, when things were disastrous, friends and neighbors came to the rescue with help and advice, that taught me how to do things and also that God helps those who help themselves.
I found a good job, worked part time jobs, and painted and fixed. Later I sold at a profit and had the house built that happened to end up at a 17% interest rate, while I was only making $7.00 a hour. That house payment almost killed me, but more part time work, cooking economically, heating with wood, the daughters going to work in high school while doing a team sport at the same time, and just saying no! To all the things the other kids had, or that I dearly wanted to give to compete with the Jones or feel like I was being a "good mother", ultimately showed me that what the girls and I gained in our relationship. Their independence, common sense and maturity was worth far more than the gifts, toys and events that many young parents think they must provide or have for themselves.
The amount of saving each month on these issues went from small to large, but could be gauged by the amount of cash left over for allowances or school lunches for the girls. Often, near to tears, it didn't seem like I could make it another month or go another day, without some relief from the poverty that I felt. I knew I had a job, I always found some other work for extra cash, and miracles happened all the time.
When the roof caved in, my elderly neighbor said her son did roofs. He would take payments, she said. So, I suspect she paid him for the new roof, and I paid her $25 a month for 3 years before she said that he said it was paid off. I gave my last dollar for coffee and lunch for the remaining two week period of the month to a young mother who had driven her 2 month old baby out in the winter, to sit and check out her husbands whereabouts, one night, and run out of gas. The dollar went to get her home with gas in the car. Two days later, my mother, who was also single mother, sent my daughter a $5.00 birthday gift. Sorry, Mom, but the birthday gift was a $3.00 birthday party and two dollars for me to eat.
By Leslie from Albuquerque, New Mexico
Editor's Note: Because Leslie's essay is longer than our usual submissions, we are publishing it in 6 sections. We will post the next section soon.Here are the previously posted sections:
Do you have a frugal story to share with the ThriftyFun community? Submit your essay here: