June 3, 2009
0

found this helpful
Hi--first, congrats on your new pup ( and love his name!) If he generally loves to be around people and is good with the kids, I wouldn't be too concerned about his going off by himself in another room when you're working around the house.
In fact, it's pretty emotionally healthy! There are some dogs who will stay "in the excitement" and never want to be alone and can whip themselves into a frenzy of separation anxiety--can't entertain themselves.
He sounds fairly well-balanced to me.
On the digging in the yard you mentioned--we have one who drove us nuts with that, too; this sounds gross but it really works: the next time your dog poops, place some of it in the spots that he likes to dig in and cover--shallowly bury it.
We tried all kinds of suggestions on the digging but the poop trick worked. Apparently they don't like pawing at their own messes.
Hope that helps--enjoy your boy!
Candy in FL

Robyn Fed
Silver Post Medal for All Time! 398 Posts
June 4, 2009
0

found this helpful
You would really enjoy going to leerburg.com and learning all that Ed Frawley teaches on that site for free regarding training. I love these types of dogs.
They are so great! Here is a pic of Shadow an Dutchess two of the furbabies we have. Thanks for sharing!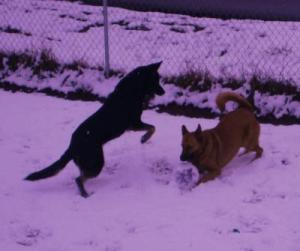 June 6, 2009
0

found this helpful
He is probably tired. Puppies, like babies, need more sleep than adults. Congratulations on such a cutie.

June 6, 2009
0

found this helpful
I'd suggest feeding him less cereal and more protein, especially in the morning. This will encourage him to stay awak in the daytime, sleep when you do. Also, I talk to my pets when I go to sleep before I turn out the light, pointing to their bed: "Mamma go sleepy, ____go sleepy!" It works and there's not a peep until I'm awake the next morning. It seems to me that you dog is not sleeping at night, then cannot sleep while
folks are up and about during the day, so he chooses to go into another room for peace?