Simple Ways to Manage Energy Costs
Educate yourself to understand your utility bills and each line item and charge included in your bill. Knowledge can save you money!
Review your monthly bills carefully. Look for unexpected increases in your usage. This could signal a larger problem (water leak, decaying caulk around windows, etc)
Raise your thermostat 2 degrees in the summer and lower it 2 degrees in the winter. Wear a sweater when you're cold
Take advantage of ON-DEMAND conservation if your utility companies offer it. Mine credits my bill $5 during the warmest months ($20 annually) by switching on and off my units with no adverse effect to my homes cooling
UNPLUG anything plugged into an electrical outlet pulls current even when it is turned off. Unplug anything you can when it is not in use!
Yes, your father was right! TURN OFF THE LIGHT when you leave a room. This goes for computers too.
Pay your bill automatically via your checking account. You'll save the price of a stamp each month and never make a late payment. Plus, this is a free service
Take advantage of energy audits if offered by your utility company. They'll suggest ways to reduce your energy consumption. They are generally free
Use high efficiency lighting by replacing your incandescent bulbs with CFL light bulbs
Close blinds and curtains during the hottest part of the day to reduce super heating your home. This works well in the winter months to keep out the cold at night!
When replacing appliances, purchase the most energy efficient you can afford.
Showers use less water than baths
Collect water in a container to water your plants while waiting for the water to heat up for your shower.
Install low flow showerheads.
Employ a timer when taking a shower to reduce the amount of water that goes down the drain.
Reduce the water in your washing machine to match the size of the load. Wash only full loads. Wash in cold water whenever possible.
When possible, allow clothes to air or line dry.
Sign up for the budget plan, if your utility company offers it. The budget plans, bills you a set amount for a set period of time (usually 6 months) calculated from your previous utilization. This helps you avoid a nasty $400 bill when you least expect it. It's easier to budget your energy costs.
These savings tips are not painful and will help your pocketbook while helping the environment.
By skibum1910 from Prospect, KY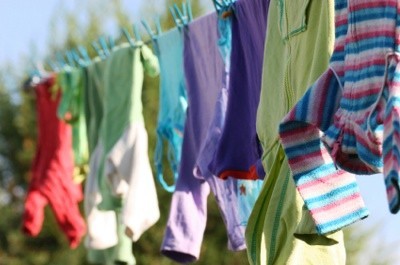 Add your voice! Click below to comment. ThriftyFun is powered by your wisdom!
July 7, 2010
0

found this helpful
These are all excellent money-saving tips. I'd add two more:
First, if several things are on a surge suppressor and you're not going to turn any of them on, switch off the power to the surge suppressor. I wouldn't recommend doing this with anything irreplaceable or expensive, but it does help with the bill.
Second, be conservative with water even in the bathroom. Turn off the water when you're brushing your teeth and only turn it back on long enough to rinse. If you're comfortable turning off the shower while you wash your hair and self, do that. (This strategy didn't work for me.) Last but not least, check that the faucets are off before you leave the room. We had a third person staying with us for a few months (he recently moved,) and when we got a water bill half again the norm for us, we investigated. Not only had the long-term guest left water running while he brushed, he left it on when he left the room! Needless to say, we didn't let that happen twice!
July 9, 2010
0

found this helpful
We added insulation in our attic and I was amazed at how much it helped with temperature control not only in the winter but the summer. It's about 7 degrees cooler on the first floor. Here's a neat diagram that explains where you need insulation, it can help all over the house!
http://www.oldh cts-part-2.shtml
July 10, 2010
0

found this helpful
Your TV, dryer and computer use the most energy of all appliances. Turn off the TV or computer when you're done with it. Try running the dryer for half the time you're supposed to. Lots of times, things dry faster than you think. Read more books. Take a walk.
December 1, 2014
0

found this helpful
If not in use, make sure your fireplace damper is in the closed position. I have separate breakers for the garage and when I am not using the garage, I make sure all of them are off.
Add your voice! Click below to comment. ThriftyFun is powered by your wisdom!
Related Content
In This Guide
Categories
Guides
More
Categories