How I save energy in my home is really easy. I start with the fridge since it is one of the items in the home that uses the most energy.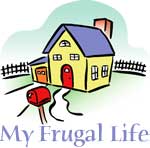 When I take a jug of milk out, I replace it with another filled with water. A full fridge will not run as much as one that is half full to nearly empty.
I use what hot water I plan for the day such as bathing and washing dishes and then I turn the breaker for the hot water heater off, after allowing the water to reheat. Since I have it wrapped in a blanket, it will stay hot for me to use the next day. On the third day, I turn the breaker back on to heat water again.
One day a week, I do all of my basic cooking for the week. That keeps the oven and stove from being used each day. Plus, it cuts down on heat in the house during the summer. Reheating it only takes a minute using the microwave.
By Bren from Birmingham, AL
Do you have a frugal story to share with the ThriftyFun community? Submit your essay here: http://www.thriftyfun.com/post_myfrugallife.ldml