By Diana MI (Guest Post)
April 24, 2007
1

found this helpful
I just wanted to add to the Salmon patties, my grandmother always used left over mashed potatoes in her patties, it is a great way to use left overs and very delicious.
April 24, 2007
0

found this helpful
This is one of my favourite meal: Salmon Loaf and Scalloped potatoes. They cook at the same temp so it is just a matter of timing each. All together the meal takes about 1 hour and 15 minutes:
SAVOURY SALMON LOAF
1/2 c. dry bread crumbs or craker crumbs
2 eggs, slightly beaten
1 lb(large) can of salmon, with broth, flaked OR 2 small cans.
Dash pepper
1/2 tsp sage
2 tsp finely chopped onion or same amount dried onion flakes
1 tbsp finely chopped celery OR dried chopped parsley OR celery seed to taste.
Combine all ingredients in order given. Paked firmly into a greased loaf pan or casserole and bake at 350*F for 30-40 minutes
SCALLOPED POTATOES
4 large or 6 medium potates, peeled if old, scrubbed and skin on if new.
1/2 small onion, sliced thinly into rings
INSTANT BLEND FLOUR
BUTTER OR MARG
MILK
Lightly grease a casserole dish, one with a lid.
Thinly slice potatoes, layering with onion rings
Sprinkle generously with flour and salt and pepper to taste
Dot with butter or marg.
Repeat this layering 3 more times, dividing onion and potato slices accordingly. Finish with flour, salt and pepper and dotted with marg.
Pouring from one side or corner of the casserole and watching the opposite side, add milk until you can see milk on the other side or corner. Cover.
Bake in preheated 350*F oven for 1 hour. Remove the lid from the casserole and bake for a further 15 minutes to brown the top and edges.
To cook salmon loaf and scalloped potatoes together, do the following:
Place potatoes in the preheated 350* oven for 35 minutes.
After that time, slide in the salmon loaf for 25 minutes.
Remove the lid from the potatoes after that time and cook both for another 15 minutes.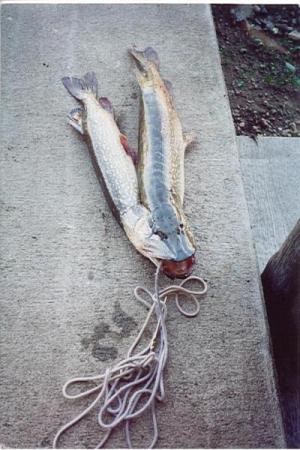 April 24, 2007
0

found this helpful
i love to make salmon scramble. 1 can of salmon, 2 or 3 eggs depending on what you like. old bay seasoning again to taste. saute a pepper and an onion and a celery stalk and add the debonded salmon and the eggs. swish it all around. ummm it is so good. you can also put it in over a bit and get it all hot.
By Margie Minard (Guest Post)
April 24, 2007
0

found this helpful
Just debone and get out the silvery skin and to a regular can of salmon add an egg, small onion, minced and a bit of minced celery with enough crushed saltines to bind...I would say 8 or 10. Fry carefully to a golden brown. Serve with a simple tartar sauce of mayonaise, minced onion and a little pickle relish. We usually have boiled potaotes with parsley or chive butter and a green salad. One of our favorite meals ever!!
April 24, 2007
0

found this helpful
Salmon Stew
Serving Size: 8 to 10
Preparation Time: about 30 minutes
8 average sized potatoes
1 large onion
1/4 cup of butter
1 Tbs. salt
pepper to taste
2 cans of salmon (cleaned)
1 can evaporated milk (Pet brand)
1 cup ketchup (optional)
Tabasco sauce to taste (optional)
Fat free saltines or oyster crackers
Preparation:
Peel and dice potatoes and onions. In 8 quart pot fill to half with water add salt, pepper, butter, potatoes and onions. Boil for about 25 minutes stirring some, turn off heat and add salmon, ketchup, Tabasco and milk last, stirring to blend. Get out your favorite bowl, add crackers and stew, eat.
*Variations:
~my mom lightly sauteed the salmon & chopped onion in a bit of butter before adding them to the stew pot.
~you can omit the ketchup & tabasco entirely, and the potatoes too if you like. personally, i prefer it without the ketchup.
April 25, 2007
0

found this helpful
I have used boxed stuffing mix (chicken or turkey, not cornbread) with an egg and warm water - the amount called for on the box, to mix with my canned sallmon patties. My family loves them and we even eat the leftovers for breakfast the next day. By the way, my mom told me not to remove the bones. Just crush them and mix in with the above recipe for added calcium in the diet.
By Adele (Guest Post)
April 25, 2007
0

found this helpful
Here is an easier one if you have a computer go to the website allrecipes.com and put in salmon patties and it will give you a bunch even ones that say use can or bagged salmon. Good Luck!
By CLH IN ATLANTA (Guest Post)
July 11, 2007
1

found this helpful
My aunt used to make salmon salad out of canned salmon. You know it is already cooked. You can leave in or take out the extra skin, bones, but mix with a little mayo, breaking up the pieces, and she used to chop a red delicious apple with the skin left on, and mix into the salad.
You would be surprised how sweet the apple tastes along side the salmon and how the red color of the apple is pleasing. You can add celery or anything else you like, but try this sometime. It is good in the summer when its is hot and you don't want to cook.