Today people look for items to make life easier. Yet, those items cost money which is earned by working, thus defeating the purpose of making life easier. In the "olden days" things were done more economically than today, and life seemed simpler. Sometimes, the old fashioned way is not only the simpler way it's the cheaper way.
Laundry Day
Take some time to calculate the price of a clothes dryer per year. The initial purchase of the dryer costs several hundred dollars. Then, there is the cost of the energy needed to run it. In the end a clothes dryer could cost $380 in the first year for a basic electric model or $310 for a basic gas model.
Instead, do it Grandma's way and hang clothes on the line to dry. In the warm months of the year this is a practical and fresh solution. Not only do the clothes smell fresh, but the initial cost of $10 for a clothesline and clothespins doesn't compare to the mechanical method.. Hanging clothes outside also allows for a chance to enjoy nature's sights, sounds, and refreshing air; consider it a free trip to a health spa.
Put Up Some Savings
Learn to can items while they're on sale. Canning is a simple process once it is learned, and supplies are reasonable. However, don't feel that making jellies and "putting up" beans is the requirement. Instead, think creatively.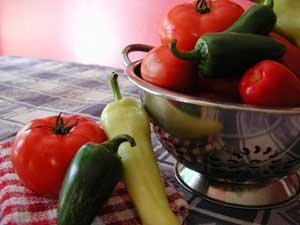 While green peppers can be expensive in the winter months, they are much cheaper in the summer. Purchase a bushel in the summer months along with a bushel of onions. Then, in quart jars layer one half cut green peppers and one half sliced onions. In the winter, or even on a busy summer day, prepare sausage or meatball sandwiches with the canned peppers and onions. It saves not only money but time as well. Consider other combinations or "quick fixes" to prepare ahead of time.
A Seed Swap
The old-fashioned idea of a seed swap is fun and economical. Plantlings are expensive when they need to be replaced each year. While landscaping can be based around perennials which do not need to be replaced each year, nothing beats the sunny smile of a marigold. As the seeds form on the dead flowers, snap them off and place them on a tray in a dry place. When the seeds have completely dried in a week or more, store them in an air tight bag in a dark place until next spring. In March start the seeds indoors and move them out as the weather allows.
Get Out There and Walk
Walking could possibly be the most beneficial exercise. The pace can be adjusted as needed, and it can be done with a friend. Instead of hopping in the car to go down the block for a paper, walk. The benefits are limitless. Not only will it aid in overall health, but it will save on gasoline and car costs. Remember how Great Granddad walked to work each day? He must have been on to something.