To me, frugal living isn't about living on-the-cheap or settling on inferior product.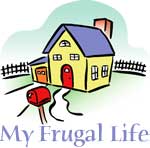 It's simply a mindset that evolves into a way of life that allows one to be thrifty and creative. Prudence in all things is the key. "Do I really need it?", "Do I really want it?", "Is there a comparable product that costs less?", "Can this thing that I don't want or need anymore be reused for something else or given to someone who needs it?", etc.
One of my favorite recipes is one called Mustgo. It's a weekly dish made up of all the week's leftovers that "must go". Whatever is in the fridge goes into the soup or stew of the week, complimented by a fresh garden salad and baguette, finished off with ice cream for dessert.
I enjoy living the frugal life that saves me money and gives me a sense of satisfaction.
By Wilhelmina from Amherstburg, ON
Do you have a frugal story to share with the ThriftyFun community? Submit your essay here: http://www.thriftyfun.com/post_myfrugallife.ldml