Tips for Avoiding Office Illnesses

Pghgirl40
Bronze Feedback Medal for All Time! 196 Feedbacks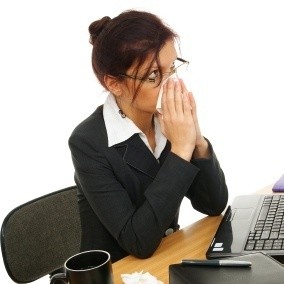 With cold and flu season almost here, one of the thriftiest and best tips is to avoid getting sick. You save money on doctor visits and medications and, most importantly, you stay healthy and productive.
After being very sick several winters in a row, I started to look around for easy, frugal, and green ways to stay well. What I found I could improve at work surprised me, but (knock on wood) but by following these 10 simple steps, I have gone two seasons without getting sick:
Never use the water fountain or water cooler at work (or in any public place). People often put their germy bottles right up to the spout. Drink plenty of water during the day (if your doctor says it is OK), but bring your own from home packaged in a clean bottle or travel mug.
If the water cooler has a hot water spout, avoid using that also! I have seen people put their germy cups right up to the spout. Use your own water and a microwave safe cup to make your own coffee or tea.
Avoid touching the microwave buttons, sink handles, and candy machine buttons with bare hands. Use a paper towel or for pushing buttons use a pencil (eraser end and just for this purpose - you don't want to be chewing thoughtfully on this pencil). While you are at it, the same goes for avoiding touching the buttons on the fax machine, the copier, hallway phones, or the elevator. Keys can also be a handy tool for pushing buttons.
Mom was right when she said never touch anything in a public bathroom. Put toilet paper or a seat cover on the seat, don't ever put your purse on the floor, always wash your hands when you are done (sing happy birthday to yourself twice using hot water and soap to do it right), and use paper towels to turn the water on and off and to get paper towels to dry your hands. Also use a paper towel to open the door to leave.
Don't buy the expensive small bottles of hand sanitizer. When you have an empty hotel shampoo bottle, clean it, and fill it with hand sanitizer from your economy bottle. Write the contents with black marker and cover the marking with clear tape. Keep a bottle in your purse and at your desk. If you can't wash your hands right away, use the sanitizer after using the copier or sitting at a coworker's desk or conference room.
Don't be rude and not shake hands when meeting someone, but until you can (unobtrusively and without insulting the person) make time to wash your hands; avoid touching your face after the greeting.
If your coworkers are sick, encourage them to talk to your manager about going home sick or even working from home. The fewer germs in the work place, the better. If you are sick, you need to do the same.
Bring a healthy bagged lunch every day, and if eating in the public lunch room, wipe down the table and wash your hands before opening your lunch. Always bring your own utensils (it is green and less chance of having them touched by germy hands if they are in the pick your own silverware containers).
Dress appropriately for your office temperature. If you know your office is always too hot or too cold, dress in layers so you stay comfortable. Being too hot or too cold can stress you out, and when you are stressed, you are more vulnerable to getting sick. Wash your office sweater regularly and avoid lending it out.
Last but not least, get plenty of sleep. If you let yourself get over tired during cold and flu season, you are more vulnerable to picking up the passing germs.
By Pghgirl40 from Pittsburgh, PA
Comments
Read More

Comments
Advertisement
Categories
Pages
More
Categories
Published by ThriftyFun.
© 1997-2021 by Cumuli, Inc. All Rights Reserved.
https://www.thriftyfun.com/tf56386994.tip.html