While people everywhere were preparing for the holidays, my children and I were preparing for a funeral.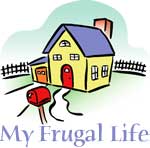 My husband of thirty years had a heart attack on December 14, 2008, passed away on December 23rd, and was buried on the 31st. It was indeed an indelible holiday.
Our problems did not start with his death but with years of unemployment prior to his death. Savings were depleted, bills were unpaid, debts piled high, and doctor visits were postponed indefinitely. He was a proud man and did not want any Government assistance for anything.
Knowing that I couldn't afford the house, we emptied our home and moved to my sister's house after the funeral. We had to leave anything that were too difficult to carry or we could live without. Many things were given away. My sister, her husband, and friends helped with the move. After 2 years with my sister, we were able to move to a place closer to school.
We understand the differences between wants, needs, and likes. Our motto is, if we can live without it, we don't need it. We voted against cable versus internet and land line versus cell phones. Since we don't have cable, we do splurge on entertainment. We have Netflix and watch news on Hulu. We discussed the fact that when a company gives you any kind of package deal, it would still cost more in the end. Our thermostat is never set higher than 65 degrees and usually as low as 58. We use electric blankets (turned off in the morning), sweaters, and long johns if and when necessary.
Our 11th commandment is "don't get sick", so we eat plenty of fruits and vegetables. We use bleach for cleaning and vinegar and honey as prophylactics. I have a list of staple foods like milk, bread, eggs, fruits and vegetables, dried beans, and a 50 pound bag of rice that lasts for 3 to 4 months. The simple act of looking at items outside this list is a grave sin. We'd often say, "Can't even afford to look". I find that coupons don't give enough savings for the amount of time spent on clipping, storing, organizing and they are too much trouble to use, so we buy generic.
We have high deductibles on our home, car, and health insurances and we make sure that savings come before anything we like beyond the bare necessities, like ice cream. We use the the internet to learn how to make minor home, car, or computer repairs. We learned to be our own "handy man" or we'd extend minor repairs as much as possible without risking further damage.
We limit driving any place with a single destination. Even driving properly saves on gas. Since the children have bus passes for school, they take the bus as much as possible. What I know for sure is, this is a community effort and together we will make it through and we'll be fine.
By Zarah from Lafayette, CO
Do you have a frugal story to share with the ThriftyFun community? Submit your essay here: http://www.thriftyfun.com/post_myfrugallife.ldml