With the economic times as they are, I am so thankful that we live the way we do. We have always tried to live within our income and have as few bills as possible.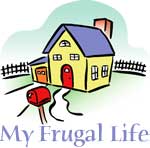 We don't have new cars, fancy clothes, etc. but we have everything we need plus more. We garden, can, dry, freeze, root storage our food supply as well as shop at stores like Save-a-lot. I buy marked down foods and quickly use or freeze. We keep lists of things that need to be done the next time we go to each village or the city. We never make a trip for only one reason. Even a necessary unexpected trip can be used for more than one thing by grabbing the list and bag of stuff for that place. Example: Our local village has Save-a-lot, two of the kids, drug store, hospital. If we need to make an ER trip, we can just grab the bag of stuff for that village as we race out the door and everything is in there for running errands after the ER trip is done or during for the partner if there is a long wait.
We make most of our foods from scratch and try to grow as many herbs as possible. They are used for cooking and medicine which helps the medical budget. I have containers of lettuce growing year round in the window for my fresh greens. Chard works nice this way also.
We hang our washed clothes inside and out to cut down on electric bills for the dryer and humidifier. We changed all our outside lights to motion sensors so they are not on all night. We keep our furnace at a low temperature 60 degrees and use an electric heater in the room we are in for extra heat. On the real low temperature days during the winter, I throw a roasting pan full of squash in the oven for extra heat.
We do not eat out or go to movies. A good book borrowed from the library takes us anywhere in the world and we can borrow movies from the library for free if we want to watch one.
By Jackie from Nunda, NY
Do you have a frugal story to share with the ThriftyFun community? Submit your essay here: https://www.thriftyfun.com/post_myfrugallife.ldml