I've become more frugal over the last few years out of necessity and for the challenge and fun it can be.
One of the first habits I started was using canvas bags.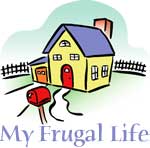 I have about 7, some of which were promotional when the idea became publicly popular. One I got this way: Shopping for cat food one day, I noticed a free bag offer with purchase of a particular brand. It's a large bag showing a family and their pets watching TV. I didn't want to buy this brand, but thought, I wonder if the cashier would give it to me anyway? I took my cat food and a bag to the counter and asked if I could have one even though I wasn't purchasing that brand. "Oh, sure, no problem!" Yay, a small victory! This encouraged me to later ask for things I normally wouldn't ask for. I've gotten temporary discounts on monthly services and extra little deals in stores.
I've found discarded pet supplies behind the store including salvageable furniture and a kennel, cat toys, water fountain, a small tabletop fish tank kit, ID tags, books, a 20 lb. bag of cat litter, and a soft-sided pet carrier. It's crazy what they throw out.
I once worked at a produce stand where a customer donated 20 or so paper bags for other customers' use. No one used them so I took them to use for trash bags and still have most of them. Since I recycle bags, boxes, plastics, glass and mail, it could take a month for the bag to fill.
I walk to Walmart a block away, re-use plastic produce bags, use cold water in the washer, air-dry clothes outside as much as possible, and hand wash certain things. When I'm finished with magazines, I leave them on benches for others. My aunt saves the advice column section of the paper for me which can be entertaining.
To save on clothes, I visit a once-a-week free clothing store. Sometimes I find items for my mom and what doesn't fit goes to an animal welfare store. I've also given them some items I've found behind the pet store. I haven't bought pajamas for 20 years. I realized instead I could use knits and any soft tops or bottoms that are slightly damaged or discolored, etc. that I don't wear outside anymore.
I don't compromise on food quality, though, including cat food, I'm vegetarian, and only use coupons on items I'd buy anyway. I make my own cookies and pancakes. Salad dressing is extra virgin olive oil, vinegar, salt and herbs.I go directly to company websites for coupons and also get offers by email. When I buy bulk, I bring my containers.
I can get blackberries in a huge park during August and September. Today, in another park, I was very happy with another discovery. Along the park border in some areas are homes. Next to a concord grape vine, the owners put "Free Grapes!" Never had I had a fresh concord grape off the vine! Delicious! I filled a small container and will return!
By Chantal from Salem, OR
Do you have a frugal story to share with the ThriftyFun community? Submit your essay here: http://www.thriftyfun.com/post_myfrugallife.ldml