April 12, 2011
0

found this helpful
How to Make Chicken Crispitos
By Maria Scinto, eHow Contributor
Chicken crispitos, a Tex-Mexish sort of dish, are a favorite comfort food in many parts of the US. They are served in many school cafeterias and convenience stores, but they are not available for purchase in grocery stores. If you are no longer in school and your local convenience store does not serve these, you can, however, make up a reasonable facsimile at home.
Difficulty:
Moderately Easy
Instructions
things you'll need:
2 c. cooked chicken
1 c. taco or enchilada sauce
1 cup shredded cheese (cheddar, jack, or a "taco cheese"-type blend)
1/2 cup diced onions
1 4 oz. can green chilies
1 tsp.garlic salt
24 small flour tortillas
Wooden toothpicks
Deep fryer or heavy skillet
Oil for deep frying
Salsa, guacamole and/or sour cream
1
Shred the chicken with your hands or by using two forks. Mix the shredded cheese into the chicken.
2
Chop the canned green chiles into small pieces, then stir them into the chicken mixture. Stir in the taco sauce, onions, and garlic salt.
3
Put two tbsp. of chicken mixture in the center of each tortilla. Roll the tortillas up tightly and hold them in place with wooden toothpicks.
4
Heat the oil in the skillet or deep fryer until it reaches about 375 degrees. Fry the crispitos in small batches until they are golden brown.
5
Drain the crispitos on a paper towel. When they have cooled slightly, serve them with salsa, guacamole, and/or sour cream as desired.
Tips & Warnings
If you prefer not to fry these, you can brush them with oil and bake them at at 350 for 15 - 25 minutes until the tortillas are crispy and golden
These are NOT the same as Taco Bell crispitos, which are basically cinnamon-sugar dusted fried flour tortilla strips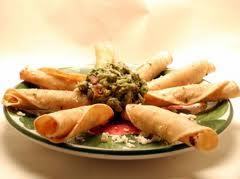 April 13, 2011
1

found this helpful
1 lb. ground beef
1/2 lb. cheese
Small onion
Sm. can refried beans
1 dozen flour tortillas
Hot sauce
Fry ground beef and onion together. Grate cheese. Warm tortilla over open flame on top of stove. Place in each tortilla 2 tablespoons ground beef, 2 tablespoons refried beans, cheese and hot sauce. Fold into a 4 inch square. Fry in skillet with oil until crisp. Cool and eat.