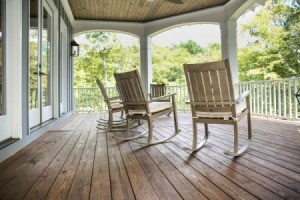 I'd like to know if anyone has any suggestions on how to stop common houseflies from hanging around on our back porch. They seem to accumulate there every day. The porch is very clean, no food or animal waste is present to attract them. And please don't suggest one of those unsightly sticky fly ribbons. Thanks
~Harm0ny~
Answers
September 3, 2004
0

found this helpful
Best Answer
Hang dried tansy in attractive bunches the way flowers and herbs are hung to dry. Or you can plant tansy and hang the plants in baskets along your porch. This repels flies.
September 4, 2004
0

found this helpful
Best Answer
Fill small Ziplock Bags with water and hang them above the entrance to the porch, and perhaps also above the door to the house. I don't really know why this works, but it does. I think I read somewhere it has to do with how the eye of the fly reacts to the reflection from the water...but not sure. Just try it!
Harlean from Arkansas
By (Guest Post)
January 12, 2005
0

found this helpful
Best Answer
Grow Basil in a couple of pots, works a treat.
By Cassie (Guest Post)
April 3, 2005
0

found this helpful
Best Answer
Try rubbing window screens and other outdoor surfaces with a fabric softner sheet. I've heard that the generic brand from Walmart works the best.
June 28, 2007
1

found this helpful
Best Answer
My cousins have been using the water bags for years. I asked them how it works, and they said that the flies think it's a hornets nest. I asked them which fly told them that. Who knew?
By aussiechick (Guest Post)
January 5, 2008
1

found this helpful
Best Answer
okay if it's one people in this world who know all about flies it's us aussies! I have just tried your trick and I can not believe that within 5 minutes of going out and hanging all the little bags and spraying a bit of fly spray around onto the flies that were hanging around the dogs bowl, I now have ZERO FLIES!
I go to the Outback for my holidays and the flies there are resistant to any chemicals-can't wait to try this trick, have to figure out how to make a hat with water bags instead of corks! Only other miracle remedy I have come across for personal body application is a hand creme to which both pure Lavender oil and Sandalwood Oil have been added (I think that's right). Outback the flies crawl in your eyes, up your nose and there's billions-my mate applies this hand creme and stands next to us fly-free whilst we all have the flies all over us.
June 28, 2011
0

found this helpful
Best Answer
I was told to add a couple of pennies to the Ziploc baggie of water.
April 14, 2017
0

found this helpful
Best Answer
I literally stopped reading this and immediately tried the bag of water with pennies inside. I had a whole lot of flies that like to hang out by my carport. It working great in the area where there is direct sunlight but unfortunately there a couple that have migrated to the area where there is shade which is buy my door. So yes the bag works in the Sunlight...
Read More

Answers