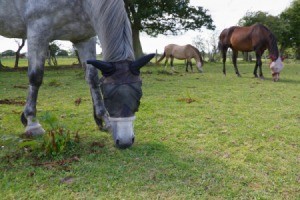 Every summer close to the end of July and begining of August we are bombarded by horse flies when we want to enjoy the outdoors. We do not live on or near a farm. We do not have livestock. We are puzzled and would like to ask if you have some home remedies for getting rid of the flies. They are mean and bite. If we kill one, then fifteen comes to its funeral! Thanks for all your help.
Tina Kesler, OH
Answers:
Mouthwash, Ammonia, and Dishsoap
Cheap, effective and wonderfully scented. Go to a dollar store and buy Mint antiseptic mouthwash, lemon ammonia and lemon dish soap. Off brands work perfectly. Mix one part (I use the lid from the mouthwash) of each of the three liquids, into a 32 oz. spray bottle. Fill bottle to top with water. Spray everything (except animals and human) ie. grass, shrubs, lawn furniture, brick, wood, plants (it won't hurt them). You will be "flying insect" free for hours. Apply as needed.

By Jessica
Duct Tape
There is nothing I have found yet to rid you of them, but I find if I put duck tape inside out across the back of your hat they will get stuck in the glue. I have caught 5 in one afternoon working outside. Hope it works for you.

By P'Licious, Ontario
Lime
You can spread lime around on the ground and it will get rid of most all insects and flies, ants, etc.

By Deb