By guest (Guest Post)
July 29, 2006
0

found this helpful
There was a recall on these pots years ago and they highly recommend not using them. They said there was a problem with the handle-whatever- which could cause burns damage or something like that. I have not gotten rid of mine as I still use it when our electric goes off, but they told me not to use it anymore.
November 26, 2016
0

found this helpful
Best Answer
My E-1210 just did the separation thing this morning, but I was prepared for it...lifting the pot with a potholder from the bottom prevented the usual disaster. I'm sort of glad it did, because now I can see exactly what's going on with the epoxy bond...and yes, it's drying out/shrinkage of the epoxy that causes this to happen. There is no fix for it, and the USPSC recalled them ALL back in the '70s. It sure makes a great cup of coffee, but I'm not going to fill the stainless with epoxy and wait for it to fall apart. Remember, epoxy a new "miracle glue" back in 1958 when these were designed, and its shortcomings were unknown then. I suppose I could pour epoxy into the ring and set the pot in it to cure for a week or so, but I'd never use it for coffee ever again. So now, I'm using my 1950s Pyrex perker, it makes coffee just as well, and uses natgas instead of more expensive electric power. I'm good.
July 29, 2006
1

found this helpful
Check for replacement parts on ebay.
October 1, 2007
1

found this helpful
I have a new never used 9 cup perculator from corningware, If anyone would like to purchase it.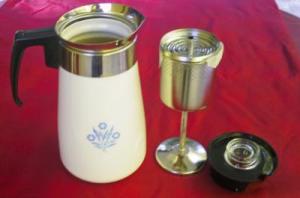 June 19, 2016
0

found this helpful
I only need the percolator glass lid.How much delivered to my address in South Africa.The town is Stellenbosch in the western Cape?
October 27, 2016
0

found this helpful
still have it? much?
October 27, 2016
0

found this helpful
Hi
do you still have this? How much?
By guest (Guest Post)
October 24, 2007
0

found this helpful
I have a new recalled 9 cup stovetop percolator I would like to sell it for parts only, it is complete and new with instruction book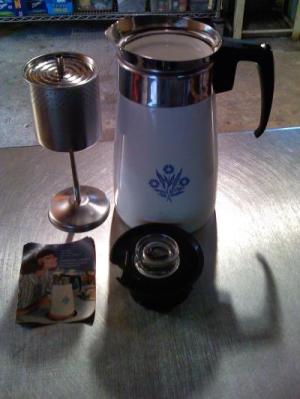 By guest (Guest Post)
October 24, 2007
0

found this helpful
wacky wherehouse @ ma c . co m
By guest (Guest Post)
December 14, 2008
0

found this helpful
Good luck with your coffee pot. I have an electric 9 cup that leaks near the handle as well. This is common for these pots as far as I know. There was a recall because the handle would suddenly fall apart and caused some injuries. I have used my corning ware coffee pot for over 20 years after I found it in the back under my mothers cabinet. She put it away when she bought a Mr. coffee back in the 70's. I'll keep using this pot leak and all for many more years.
March 6, 2009
0

found this helpful
I am not sure how to fix the problem, I have one I found several years ago and use it all the time. I found a copy of the recall and it pertains to the electric pots. Mine is electric and have the same problem. When the handle goes I will find a way to use it any way. I would like one for the stove top or another electric. Love it!
August 9, 2015
0

found this helpful
I have a corningware stove top 9 cup coffee pot white blue corn flower and I need either the inside set or the
Filter Basket Lid ( flat lid Top for coffee grinds holder)
does anyone know in central NJ where I can find or does someone have one to sell ?
August 9, 2017
0

found this helpful
HI WE HAVE THE SAME PROBLEM WE HAD OURS FOR 47 YEARS AND AS YOU WE LOVE IT WELL TODAY I TRIED SILICONE WE SHALL SEE IF IT WORKS MY NEXT STEP IS CLEAR FLEX SEAL. BUT THATS GOING TO BE DIFFICULT TO APPLY IF THAT DONT WORK I'LL TRY TO FIND A REPLACEMENT PART. I THINK OUR PROBLEM IS THAT BLACK GASKET THATS AROUND THE INSIDE TOP PORTION OF THE POT ITS PROBABLY WORN OUT LIKE THE WASHERS IN YOUR SINK/BATHTUB.