October 19, 2008
0

found this helpful
Best Answer
There are many different shapes and sizes of cinder blocks. I have some shelving made of blocks about 10 inches square, and pre-finished boards. It took zero skill and tools to set up, was large, held lots of books, and left no marks on the walls.
By Guest (Guest Post)
October 15, 2008
0

found this helpful
One cinderblock on each side would be the legs for a board - the shelf. You can stack shelves by repeating the pattern. But cinder blocks are big and heavy, and themselves take up lots of space.
Four bricks as corner legs can be an alternative, but although they take up less space, your shelving will be less stables. There are adhesives out there that can help with this.
Both of these ideas should only be considered for low shelves. You don't want bricks and cinder blocks above the heads of you or your children.
Someone at the hardware store might be able to give you some ideas. Do-it-yourself type shelving can also be found at many hardware stores.
By Harry (Guest Post)
October 15, 2008
0

found this helpful
Go down to Home Depot and go to the shelf area and look around for ideas. One is, you can buy metal U channel bars that measure about 5/8" wide and 3/8" deep with slots in them, these are screwed in to the studs behind the wall. You also buy braces that fit in the slots and then buy the shelves to fit on the braces. These channel come in different lengths and white,black and brown colors. The Home Depot sales person can help you out .There are other products there that may be of help to you. I would forget the cinder block idea but go to the area where they have the blocks to get an idea of the size and weight.
October 17, 2008
0

found this helpful
I made a shelf to raise my microwave last week out of juice cans. They are more steady if you don't drain them, but if you need to use the juice, just fill them with cat litter or sand, and rocks work well, too.
Cinder blocks aren't cheap and if you live in a second story, you may be putting too much weight on the 1st floor, esp' when you start filling the shelves.
And yes, the other poster is right, they can tip and hurt someone.
Putting up semi permanent shelves means you have to fill in the holes when you leave. Also, they disperse the weight out from the wall, making it hard to keep heavy things on them. Support from underneath is always best.
Another idea is to get the plastic "milk carton" cubes you find in the stores. However, if you plan any heavy things on them, make sure you set them so the open side is down. Don't make the mistake I did below.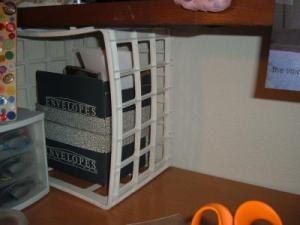 October 18, 2008
0

found this helpful
Here's the idea we used in a clothes closet I wanted to turn completely (but not permanently) into shelves. We measured the area of the closet (length, etc) and the stuff I wanted to store. Then based on that, we decided on the height of the shelves. My husband bought inexpensive pine boards the width of the shelves I wanted, and cut supports for each end of the shelves (and one for the center if the shelf was long) to fit completely under each shelf (between it and the one below).
These don't need to be attached to the shelves or the wall; they fit snugly against the closet wall and the shelf sits on top of them. You can change the height of the shelf by cutting other boards longer. If you pick a rather standard measurement between shelves, you can reuse the support pieces in other places (though you might need to get new shelf boards if the new storage area has different dimensions). You can screw the shelves to the uprights if you think you need more stability. Nancy in NC
November 3, 2008
0

found this helpful
Cinder blocks weigh between 35 & 38 lbs each. I would look at a metal sleving unit you assemble with a screw driver if it will fit in your closet. Lowes or home depot sell gorilla (or other brands) shelves that will hold 300# per shelf and are 30" wide. Usa a hammer to assemble. Harry's idea is good if you have a drill to use as a screw driver. If you want to use NokomisNims idea the box stores will cut plywood into board size pieces for you very cheaply
May 18, 2009
0

found this helpful
I buy plastic shelving units at Wal Mart. I have them all over my house. They are inexpensive, and very sturdy. You don't have to attach them to the walls either. Plus with a little imagination you can create different arrangements with them too.
I would recommend using these instead of the wire shelves you attach to the walls, and definitely instead of cinder blocks, which can be very unsteady and very very dangerous.
December 6, 2011
0

found this helpful
NokomisNims has the best idea. It really works and I have done it for years. There are no holes in the wall and you can easily take the shelves with you. It is a little hard to understand on paper. Take two short boards, as short as you want them. Stand them up against the wall on either end of the closet. Lay a board the length of the closet across the top and repeat as high as you want to go.
I have never had any fall but you can't make them too long. Or you can cut a board in small pieces and stack them the way you would the concrete blocks. The blocks are heavy and not only that they hold moisture and cause mildew.