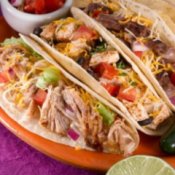 Does anyone remember Love's BBQ restaurants? I loved their 'The Porker' sandwich and actually worked at the Love's in Brentwood, CA as a hostess for about a year when I was in my early twenties! Alas, they are out of business in the US now but the memory of those yummy sandwiches inspired me to try this recipe ;-)
Ingredients:
1-1/2 tsp. butter
1 pound boneless pork roast
1/2 medium onion, chopped
2 cloves garlic, crushed
2 cups water
1-1/2 tsp. liquid smoke flavoring (hickory flavor is best for pork)
Your favorite BBQ sauce, heated
3 hamburger buns, split
Directions:
Cut the pork roast into large chunks. Melt butter in a large skillet over medium-high heat. Add pork, and brown on all sides. Remove from the skillet, and transfer to a slow cooker.
Add the onion and garlic to the skillet, and cook for a few minutes until tender. Stir in the water scraping the bottom to include all of the browned pork bits from the bottom of the pan. Pour the whole mixture into the slow cooker with the pork. Stir in liquid smoke flavoring.
Cover, and cook on High for 6 hours, or until meat is falling apart when pierced with a fork. Remove pieces of pork from the slow cooker, and shred. Empty the slow cooker of any liquid and return the pork to the slow cooker to keep warm until serving.
Heat the amount of BBQ sauce you wish to smother your pork with in a saucepan. Stir in to the shredded pork. Place equal amounts of the pork and sauce mixture on to the bottom portions of the three buns. Top with the top portion of the buns and serve.
By Deeli from Richland, WA
Read More

Comments

This is a wonderful recipe that can be made in the crock pot or oven. Made from a cut called Boston butt, that is great for slow roasting and goes a long way. The left over pulled pork can be frozen, and pulled out of your freezer. Serve for lunch, dinner or for those unexpected guest.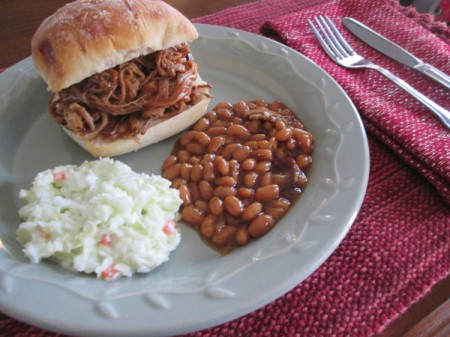 Read More...
Can I refreeze pulled pork that was leftover from barbecued pork on a bun even though it had been frozen once already?
By connee from Augusta, MT

Answers
March 13, 2010
0

found this helpful
I would not refreeze it,good luck.
March 13, 2010
0

found this helpful
I don't see why it can't be refrozen. What about all the precooked foods we buy that are frozen, TV dinners, entrees, sandwiches, foods that say to just reheat them, If manufacturers can freeze them, so can we. It is no different than freezing leftovers, etc.
March 13, 2010
0

found this helpful
I've heard that it's not a good idea to refreeze any previously cooked and previously frozen meat of any sort. I especially wouldn't do it after it had been sitting out with sauce on it for any length of time.
March 13, 2010
0

found this helpful
I am speaking from experience (food poison incident) I would not recommend refreezing PORK. I will cook Pork well and eat refridgerated left overs within a few days. I never re-heat it either, eat cold with hot apple sauce or in sandwiches. As Deeli says I would not suggest refreezing a meat with sauce on it.
Answer

this Question