March 24, 2010
0

found this helpful
As an alternative, I'm compiling binders of my daughter's life which includes poetry she wrote, comic strips that she created,,report cards, and certificates that she was awarded. I put each item in acid-free plastic sleeves. I haven't saved everything but instead chose a few items from different years in her life. As she'll be 36 this year, this means about 2-3 three inch binders. I've done this also with each of my parents' lives as well as my maternal grandparents. This way my daughter can pick and choose what she will keep of each of her ancestors.
March 24, 2010
0

found this helpful
When I made scrapbooks for each of my four grandchildren I put in anything that they brought me, with the condition that there couldn't be any dimensional items in it, because those items get bulky, and could puncture the acid free plastic sleeves. My oldest grandson ended up with two scrapbooks, because of health problems he visited a lot of different hospitals, etc., that he had certificates, etc. from.
One time when he was a patient at a Shriner's hospital he was guest of honor at a Minnesota Twins baseball game, and he had lots of pictures with the various team members and sitting on the edge of the ball field watching the warm up. By the time I get all of the things that each grandchild has wanted included in their scrapbooks there wasn't much room for what I refer to as do-dads(stickers, etc.) I did do some journaling about each item that was included. It used to be when one or the other of the kids would ask what I wanted for a present, we had a standing joke that I would reply I wanted a really nice red car with a rich man in it. When my granddaughter
(now 21) was about 8 years old, for a gift, she drew me a picture of a red car with a stick man by it, he was holding a bag that she had made a $ sign on it. Last summer I asked her if she wanted that in her scrap book and she did. So I put that in the book, while she and I were finishing it up. The books get finished when they graduate from high school. If they want to add to it, it is up to them.
March 24, 2010
0

found this helpful
All good ideas, with my grandchildren I scan drawings or take pictures of projects and when I get enough they help me make a quilt with their projects as the blocks. Instructions are on my blog.
http://www.myfr … og_latrtatr.html
Anything to preserve their younger years is a great idea and they so enjoy sharing their project with their friends.
March 24, 2010
0

found this helpful
I like to photograph playdo creations as well. That way they can be saved for viewing and the playdo can can be used over and over again without the creations being lost! Robyn
March 25, 2010
0

found this helpful
About 13 years ago my mom started taking pics of my sons with their "creations," awards and whatnot. Now I have pics of what their achievements were AND what they looked like when they did them. It warms the heart and saves the space. :) Thank you for posting this fantastic idea. It really is easy to do.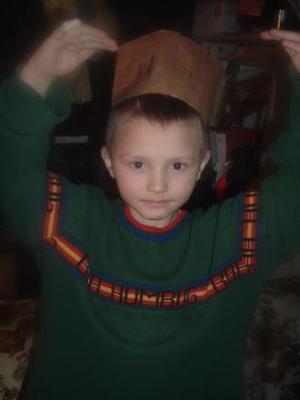 March 25, 2010
0

found this helpful
I also take a picture of my daughter with her art. I like having an idea of the age she was when she made things. (I can't get over how in her first art pictures from preschool, her little pigtails were just barely to her chin. That was less than two years ago, and now her hair is all the way down her back.) I also keep about a semester's worth of art and put everything on a blanket in the backyard for a big arial collage picture. Then she gets to choose a very limited number of items that she loves most to keep.