This is Thor, his name came from the Norse God of Thunder and it fits him. Thor is about 7 years old. I'm sure he's a mixed breed but he looks a lot like a Korat. We adopted Thor from a family whose cat had kittens. He was about 6 weeks old.
He loves to chase little balls with rattling stones inside. He also plays fetch when he feels like it. He often chases his other cat pals around the house. Thor likes to help me make the bed and he enjoys watching the drain in the sink when the dishwasher is running.
In the photo on the bottem he is enjoying the breeze from the vent above him. The photo on the top right was made last year when he volunteered to help carve the pumpkin. Thor was supposed to be my husband's cat, he was chosen in part because of his color and because he fearlessly grabbed my husband's hand when his litter mates were backing away from it. Turns out he's a Mama's Boy. I'm the only one who can get him to mind.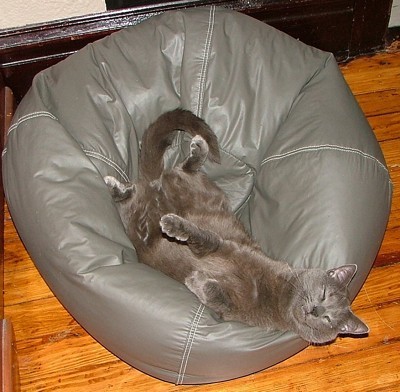 My brother-in-law had to catch him once, without my help, in order to transport him. Thor turned vicious and tore the man up! I just open the carrier and tell Thor to go inside, please, and he does, much to the frustration of the men who've tried to catch him.
By Wanda