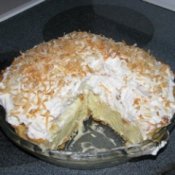 My husband's favorite dessert has always been coconut cream pie. He and I are both doing Weight Watchers, so I made this light version for his birthday (it's 7 PointsPlus for 1/12th of the pie). The recipe is involved and takes a long time, but it's worth it.
The pie turned out fabulous - creamy and better than any other coconut cream pie I've ever had - with 1/2 the calories and 1/3 of the fat. I made it the night before. Since we couldn't wait to taste it, we had birthday pie for breakfast on the big day. The kids thought that was the coolest thing ever :)
Ingredients:
1/2 (15 oz.) package refrigerated pie dough
cooking spray
2 cups 1% low-fat milk
1 cup half-and-half
1 1/2 cups flaked sweetened coconut
1 vanilla bean, split lengthwise
2/3 cup sugar
1/3 cup cornstarch
1/4 tsp. salt
4 large egg yolks
2 Tbsp. butter
3 large egg whites, at room temperature
1/2 tsp. cream of tartar
1/2 cup sugar
1/4 cup water
1/4 cup flaked sweetened coconut, toasted
Directions:
Preheat oven to 425 degrees F.
Fit dough into a 9 inch pie plate coated with cooking spray. Fold edges under; flute. Line dough with foil; arrange pie weights or dried beans on foil (I found small oven-safe plates are perfect for this and the foil helped make for a very flaky crust.)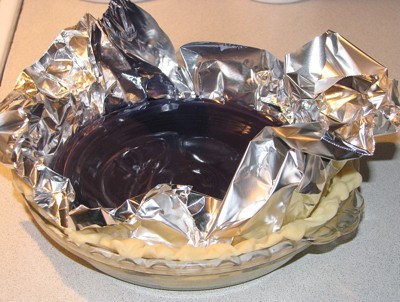 Bake for 10 minutes. Remove weights and foil, and bake an additional 10 minutes or until golden. Cool completely on a wire rack.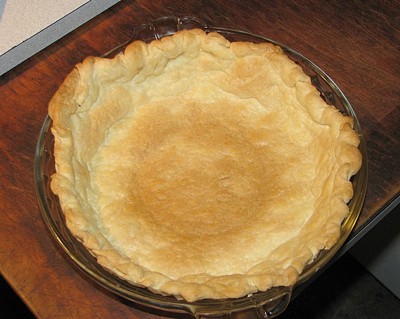 Combine milk and half-and-half in a medium saucepan over medium heat. Add 1 1/2 cups coconut. Scrape seeds from vanilla bean; stir seeds and pod into milk mixture. Bring milk mixture to a simmer; immediately remove from heat.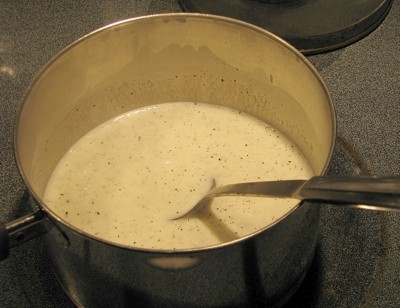 Cover and let stand 15 minutes. Strain through a cheesecloth-lined sieve into a bowl. Gather edges of cheesecloth; squeeze over bowl to release moisture. (This was messy and hot. Kitchen gloves would have been nice.) Discard solids.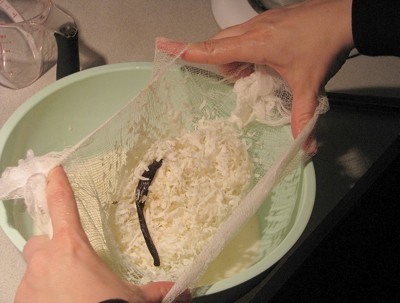 Combine 2/3 cup sugar, cornstarch, salt, and egg yolks in a large bowl, stirring with a whisk (I used my trusty Kitchen Aid mixer).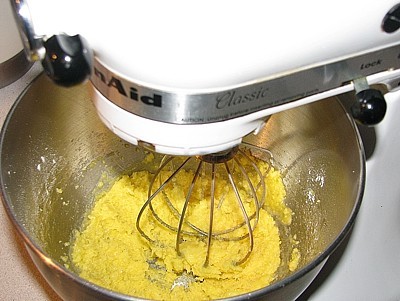 Gradually add milk mixture to egg yolk mixture, stirring constantly. Return milk mixture to pan; bring to a boil, whisking constantly.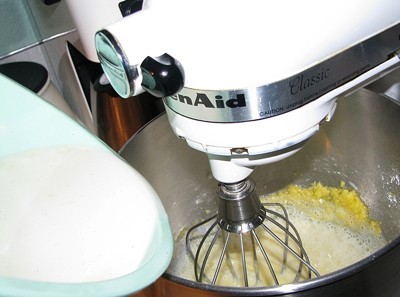 Remove from heat. Add butter; whisk until smooth.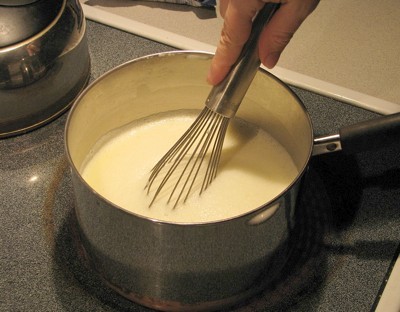 Place pan in a large ice-filled bowl for 6 minutes, stirring to cool. It will look like pudding when done.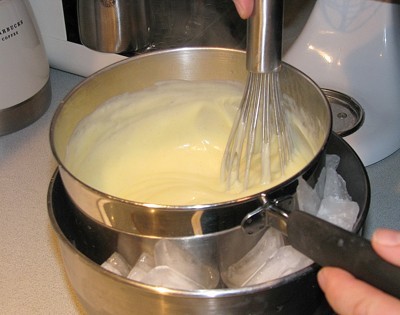 Pour into prepared crust. Cover and chill at least 1 hour.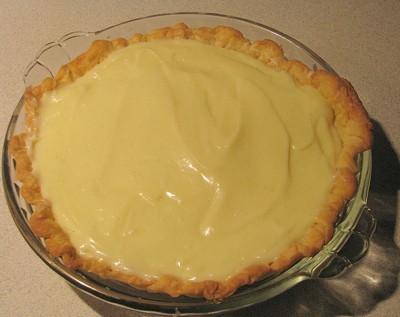 Meringue:
Place 3 egg whites and cream of tartar in a large bowl; beat with a mixer at high speed until soft peaks form.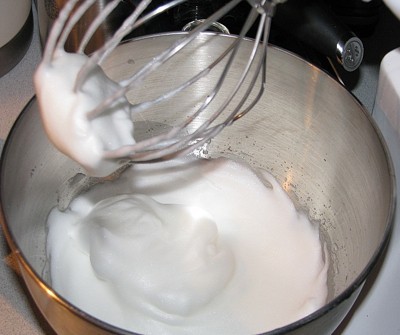 Combine 1/2 cup sugar and 1/4 cup water in a saucepan; bring to a boil. Cook, without stirring, until candy thermometer registers 250 degrees F.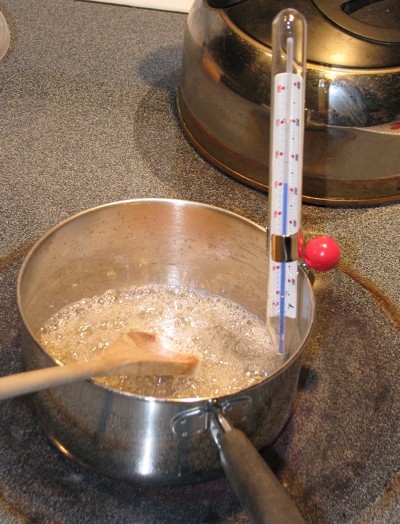 Pour hot sugar syrup in a thin stream over egg whites, beating at high speed until thick. (We didn't do this quite quickly enough and ended up with little candy pieces in the meringue. It still tasted fabulous, but wasn't as smooth as it should have been.)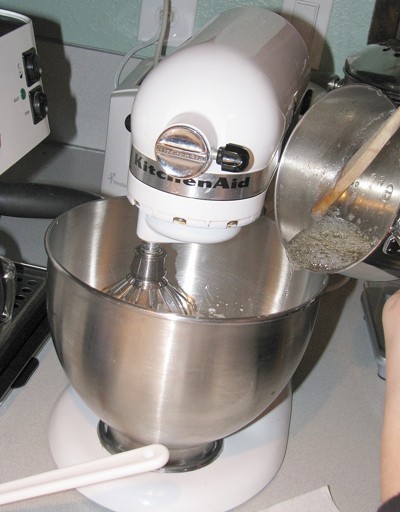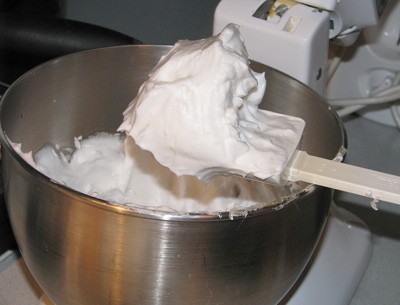 Spread meringue over pie. Cover and refrigerate at least 2 hours. Top with toasted coconut before serving.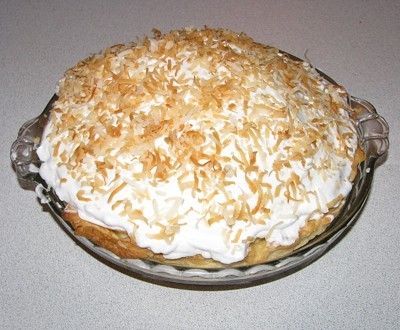 Note: You can toast the coconut yourself by spreading on a baking sheet and placing in a 350 degree F oven. Stir every 30 seconds until dry and lightly browned, about 4-5 minutes.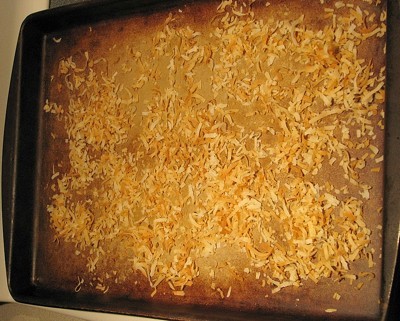 Source: Cooking Light, March 2011
By Stephanie from Hillsboro, OR
Comments
March 27, 2011
0

found this helpful
Top Comment
I didn't try any substitutions, because between the amount of work involved and the special occasion, I didn't want to risk screwing it up. :) Honestly this did turn out better than any other coconut cream pie I've tried.
Regarding the substitution ideas, the pie had a very custard-like texture. I don't think egg beaters would have held up, but I don't normally use them, so I'm not sure. The lighter half and half might be a good substitution. I'm on maintenance now, so I have the points to use on the "good stuff".
I imagine good real vanilla extract would work - although the flavor wouldn't be quite the same. I was surprised to find vanilla beans at WinCo, so you might be surprised. They definitely weren't cheap, but it was a special occasion.
Reusing the solids is an interesting idea. They were really saturated with the egg mixture, so you'd definitely have to let them dry out first. One thing that got me started on this project was a bag of sweetened flaked coconut we'd had sitting around in the cabinet, so I wasn't too concerned about stretching it this time. :) Next time, I'll get the coconut in bulk and I think I will try reusing it for the top or at least in another baking project.
I'd be interested in hearing what people try and what works.
March 25, 2011
0

found this helpful
You made a beautiful pie and thanks so much for sharing. I too am on WW and I love, love, love sweets such as this. I was wondering if you could perhaps reduce the PP even further by 1. Using fat free half and half and egg beaters in place of eggs. Also, as a thrifty idea, instead of discarding the solids, why not use that to toast the coconut for the top of the pie? Just a thought. Thanks again for sharing the recipe. Kathy
March 25, 2011
0

found this helpful
Sure made my mouth water. Thanks for sharing and posting all the photos. Nice presentation.
March 25, 2011
0

found this helpful
Great tutorial! I agree with chef4u, you could cut the fat even further. And I would hate to throw away that good coconut! Would a tsp of vanilla work instead of the vanilla bean? I am in a small town and they would never stock something like that.
Read More Comments