Coconut Pie Recipes
Solutions
Share on ThriftyFunThis guide contains the following solutions. Have something to add? Please share your solution!
It is the easiest and fastest pie I have ever made. This started as a recipe using Hershey's bars. Using Mounds was my own idea, because I like coconut.
Ingredients:
5 Mounds bars
1 container Cool Whip
1 graham cracker pie crust
Directions:
Melt the mounds bars in the microwave. Stir Cool Whip, then add to melted mounds. Mix thoroughly. Spoon into pie crust.
Cool for an hour. Enjoy!
This can be modified to chocolate pie by using 5 regular size Hershey's bars in place of mounds.
Servings:
8-10
Time:
5 Minutes Preparation Time
uncooked Minutes Cooking Time
By Clynn Altemus from Inglis, FL
This pie is so delicious and so easy to make. They'll beg for more.
Ingredients:
2 frozen deep dish pie shells, thawed
2 cups sugar
1/2 tsp. salt
4 large eggs
1 Tbsp. vanilla extract
1 can evaporated milk
1 stick butter
7 oz. Coconut
Directions:
Preheat oven 350 degrees F. While oven is heating up, place pie shells in oven to brown, for about 5 minutes.
Punch holes in crust to remove bubbles.
Mix eggs, sugar and salt. Add vanilla, milk and butter, ( butter must be last ). Stir in coconut with fork. Pour into pie shells and bake at 350 degrees F. for 40 - 45 minutes. Pies will harden as they cool. Enjoy!
By Sabrina Barr from Council, NC
This is my go-to custard pie recipe. I love coconut! If you prefer meringue to whipped topping, you can make it with the leftover egg whites.
Prep Time: About 20 minutes
Cook Time: About 25 minutes
Total Time: 45 to 55 minutes
Yield: One pie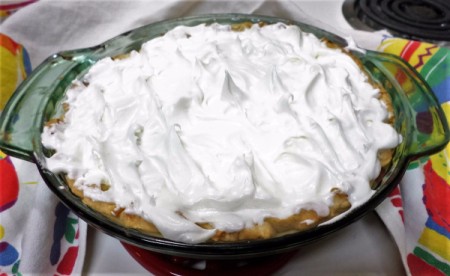 Ingredients:
1 1/2 cup milk
1/3 cup sugar
1/4 tsp salt
2 Tbsp cornstarch
3 egg yolks
1 Tbsp coconut oil or butter
1/2 cup shredded, unsweetened (dry) coconut
1/2 tsp coconut flavoring
1 uncooked bottom pie crust (You can use the refrigerated, rolled pie crust)
Steps:
Scald milk in top of double boiler. Meanwhile combine sugar, cornstarch, salt and egg yolks in a bowl.
Pour the scalded milk into the mixed ingredients, and pour the mixture back into the double boiler. Stir and cook until thickened.
Remove from heat and add the coconut oil, shredded coconut and flavoring. Pour into pastry lined pie pan and crimp edges.
Bake in 450 degree F oven for 10 minutes, then immediately turn down to 325 degrees F. Bake for an additional 10 to 20 minutes more or until a toothpick inserted in the middle comes out clean.
Let cool and cover with whipped topping.
December 2, 2016
1

found this helpful
This page contains a buttermilk coconut pie recipe The luscious flavor of coconut custard pie is sure to please family and friends.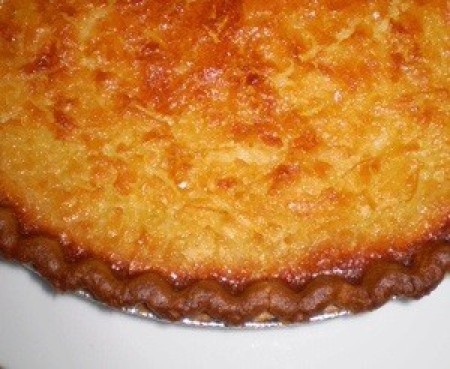 I like this. It's sweet and yummy, but not overly sweet.
Read More...
December 7, 2016
0

found this helpful
This is a guide about healthy coconut cream pie. Try this diet conscious version of a classic dessert.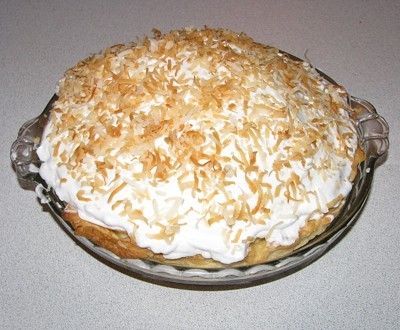 December 1, 2016
0

found this helpful
This page contains coconut custard pie recipes. This delicious custard pie is sure to become a family favorite.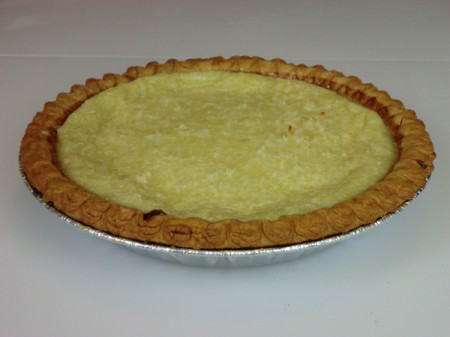 Though I am not usually a fan of coconut, this pie is the exception for me. Very tasty!
Read More...
In mixing bowl, combine coconut and melted butter. Turn the coconut mixture into a 9 inch pie plate.
Spread the mixture evenly in the pie plate. Press onto bottom and sides to form a firm, even crust.
Read More...
Mix all ingredients using 1 cup of the coconut. Pour into unbaked pie shell. Sprinkle 1/2 cup coconut on top. Bake at 325 degrees F for 60 minutes or until lightly browned.
Read More...
June 7, 2005
0

found this helpful
Combine first 3 ingredients in a small bowl, mixing well. Set aside. Beat egg whites and salt at high speed of an electric mixer until foamy.
Read More...
June 3, 2005
0

found this helpful
Cream butter; gradually add sugar, beating well at medium speed. Add eggs and beat until blended. Stir in orange juice, lemon extract, salt, and coconut, mixing well. Pour into pastry shell.
Read More...
May 31, 2005
0

found this helpful
Bake pie shell according to directions, let cool. In medium sauce pan, whisk together all remaining ingredients (except Cool Whip).
Read More...
Related Content