September 29, 2011
4

found this helpful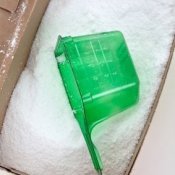 It's laundry day, and the clothes are separated, the newest energy efficient washer is on, and the water temperature is set to cold. It's a financially efficient laundry load, right? Wrong, with every load you're wasting money because laundry detergent isn't cheap, and Americans use nearly twice as much as they need to use to efficiently clean their clothes.
Measuring Up
Method Products Inc. estimates that 53% of people use the wrong amount of laundry detergent. Labeled fill lines are difficult to read, load sizes are tough to estimate, and concentrated formulas are often overlooked. Whether it's an error in measuring due to vaguely labeled detergent caps or pouring in a rush, every ounce of extra detergent means less money in your grocery account.
People tend to believe that more detergent means cleaner clothes. In reality, lingering detergent leaves soap residue on clothes making them look dingy, smell odd, and wear quicker. It also builds up in the machines, shortening their life spans. It's an instance where less is more.
Don't Believe Everything You Read
They may be responsible for manufacturing the detergent that cleans clothes, but they might not be the most qualified for measuring the needed amounts of their products. Laundry detergent manufacturers list vague recommendations for measuring their product. However, they may be recommending too much.
The Seventh Generation Company advises that the typical manufacturer's recommended detergent levels are nearly twice of what is required for a clean load of clothes.
Whether it's a miscalculation or a method for increasing sales, the amount listed on the detergent's cap is far above the needed amount for even the dirtiest loads.
The Test
Clothes are supposed to be clean when they come out of the laundry. Yet, if the claims that Americans are adding too much detergent at the advisory of the manufacturers are true, then this experiment will prove it. Wash one large bath towel as normal. Then, throw it into the washing machine in the hot water cycle without adding any additives to the load. Let it slosh around for a few minutes, and then inspect the washer. Is there suds? Is there any soap residue lingering around the rim of the machine at the water line? These are tell-tale signs that you've used too much laundry soap when the towel was previously washed.
The Cost of Too Much
What does extra soap mean? First, it means money poured down the drain, literally. A big brand concentrated laundry soap can cost $13 for a bottle that claims it washes 24 loads per bottle. If you're over-measuring or adding extra for heavily soiled loads, then you're not even getting the advertised number of loads per bottle. Now consider the fact that manufacturers recommend too much soap per load, making even the most precise laundry maid waste her pennies. A $13 bottle might be able to wash 48 loads if the amounts are reduced to the actually needed amounts, but in reality a household probably gets 18 loads out of it. Now that's money wasted.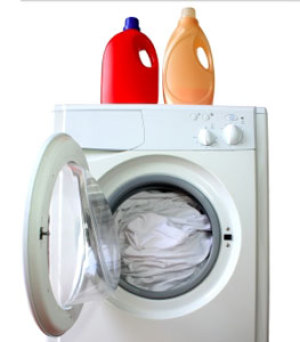 Tips for saving money on laundry soap from the ThriftyFun community.
Use Expensive Soap Where It Counts
It got really expensive buying good laundry soap for my clothes and the dogs' blankets. I now use my favorite laundry detergent for my linens and clothes. I buy the cheapest brand for the dogs blankets, etc. It has really cut down on my laundry soap budget.
By Pamm from Tulsa, OK
Perfume/Dye Free Bargain Soaps
I have to use perfume and dye free, for both my sons and husband. I use to make my own, then got lazy. Purex makes a great hypoallergenic (and they are usually the least expensive) or if you have a Kroger store, TEMPO is a couple of bucks and has the perfume dye free. I use Borax in every load, instead of bleach (non-chlorine). I also use 1/2 the recommended amount, and the borax does the rest of the work!
Use Less Soap
You are using too much soap if you are following the directions on the box or bottle. Those directions tell you how much to use up to the point that the water is saturated, not at which the clothing is clean. The saturation amount of detergent is about double the amount you need to use. Ditto for liquid softener.
I read this advice on the internet from a conservation group, but can't recall where. To summarize, if the directions call for a cup of detergent, use half a cup. You can always increase it a little. I have tried doing this with dishwasher detergent, and it doesn't work well in my dishwasher (which is on its last legs anyway).
By Holly
Tip for Using Less
I have been on the same bottle of detergent since the summer and do a fair amount of laundry. I use way less than the bottle recommends (if I used what they said, I would have an overflow!).
Start the washer (only works in a top-loader), add the detergent (a quarter to a third of recommended) and stir the water and detergent with a wooden or other long handled spoon. Add a little borax or vinegar. You will get the detergent, etc. started dissolving, and the suds will form. Add the clothes and let 'er rip. Plenty of suds, clean clothes.
Use more if you have really dirty clothes, but for run of the mill stuff, works just fine and saves lots of detergent!
By Kay
Using Every Bit Of Soap
I pull the spout out of the laundry detergent jug to get the last amount out. I usually can just grab it with my hand and pull it out, but you could use pliers. There is usually enough soap for one more load.
By Lydia
I Wash The Bottle
I have a pretty large washer, and I can fit the laundry detergent bottle in it easily. When my detergent bottle is "empty", I wash it with a load of laundry. Then I know I really used every last drop!
By JoAnn
My Own Measuring Cup
After seeing a hint in a magazine, I have started using a measuring cup for detergent - 1/3 cup per full load. I get Purex or Arm&Hammer concentrated when they're on sale.
By Louise
Usage and Storage Tips
I use ERA. I buy it when I see it on sale for 2/$5.00. I stock up and only buy it when it is on sale and use only half of what the directions say to use. When you hear the machine spinning go in and look at the drum inside. If you use the full amount, you will see a large amount of suds! That means your clothes are retaining too much soap which will ruin your clothes very soon. Also keep your soap in a warmer room. If it gets cold it gets thicker and causes you to use more than you need.
By Freedom059
Sears Laundry Soap Tubs
I buy the tubs of soap from Sears. The tub says it does 280+ loads but I've found you only need half a scoop. So I'm getting twice that amount. It only costs $20.00 so that works out to be only about seven cents per load.
By Veronica
Sun Wash Powder
I buy Sun wash powder. It does a good job and is within my budget. It however is not very strong smelling so I buy Gain fabric softener and add a small amount to my wash powder at the start. No need to later add in the rinse cycle my clothes smell good and I save money.
By Sharon
Ajax and Water
I use my old laundry detergent bottle and mix 1 part Ajax dish detergent to 6 parts water. I have a husband who loves to work outside and work on the cars. His work clothes get really dirty. This works just fine.
I also use baking soda in dishwasher. Just fill compartment and add a little bleach. I haven't purchased commercial detergents in quite a while now. Hope this helps.
By Lori
Homemade Recipe (Liquid)
On this site, a woman makes her own detergent. A great idea that I fully intend on trying. Here is the recipe:
Ingredients
1/3 bar Fels Naptha soap, grated
1/2 C. Borax
1/2 C. Washing Soda (not baking soda)
5 gallon bucket
Directions
In 2 qt. pot, put grated Fels Naptha soap, Borax, Washing Soda and 4 cups of water. Bring to a boil on medium heat, stirring occasionally until the Fels Naptha is dissolved. Continue on a low boil for 20 minutes. Add 6 cups cold water, mix with a wisk until solution is blended. Pour mixture into an old, clean, bucket. Add 22 cups of water to the bucket. (at this point, I mark the side of the bucket with a Sharpie so I don't have to measure the water again) Mix with a wisk until blended. (the texture will look like snot, lol!). If you like, you can add some essential oils, or just leave as is. Mix with the wisk every so often for 24 hours. (I did this the first 2 times I made the detergent. Now I just mix well with the cold water and pour into 2 large containers). Pour into empty laundry bottles. Use 1/2 to 1 cup per load. Stains can be treated with moist Fels Naptha lightly rubbed onto stain. For extra heavy duty loads, add 1/4-1/2 cup of Borax.
Costs
Fels Naptha Soap: $.99 (1/3 bar = $.33)
Borax $2.79: (1/2 cup ~ $.10)
Washing Soda: $2.59 (1/2 cup ~$.10)

Cost per 2 gallons of detergent: $.53
Cost per load: $.01 - .02
By Megan F.
Homemade Recipe (Powder)
I make my own also. I use powder so I don't have to worry about melting anything.
1 bar zote soap
3 cups borax
3 cups washing soda
This makes enough for several months since you only use 2 Tbsp. per load.
By kimberly
I Avoid Liquid Laundry Soap
I usually make my own laundry soap with the recipe above with Zote, washing soda, borax, but I use any samples, motel bars, etc of soap I get for free. I never make or buy a liquid laundry product; why pay for the water, and the containers are heavy. And messy. A batch, or a double batch (If I have a lot of soap bars) lasts forever, and I use the food processor to grate the soap!
By Linda