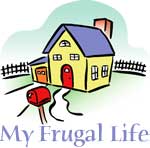 I have been hit with many big bills lately. I have disconnected my caller ID, saving me $7.00 per month. When I drink milk or juice, I add water to the glass first. I just had a glass of milk and put about 1/2 cup water in glass first, then filled the rest of the way with milk. it is perfectly satisfying and goes much further.
I had bought a cheaper brand of dog food but that did NOT work at all. I hated to throw it away or even give it away, so I kept it and have been slowly mixing it with her more expensive canned food. I am still saving money but we don't have the problems we did when we gave her cheap food.
I shop at the food bank. They don't require people to be poor, but they do encourage people at the checkout, if they are employed at a good job, to pay more than the poor folks. It costs $.35 per pound of food so it wouldn't hurt someone to pay $.50 per pound. This sounds crazy but I try to remember to go to the ladies room at work before I go home, need I say more?
I frequently print out recipes from either this website and others. I am getting together my favorites and will be giving them for Christmas this year. I will type them up and print them pretty. I am excited about them.
Sandy from Baltimore
Do you have a frugal story to share with the ThriftyFun community? Submit your essay here: http://www.thriftyfun.com/post_myfrugallife.ldml