February 27, 2011
0

found this helpful
I bought an older cocker spaniel whose backside was flaky, something my other dogs never had. Walmart sells a natural treat for skin and coat that's called healthy treats for dogs (skin & coat) in a tan colored bag and it contains Omega 3 and 6 fatty acids. The dog receives 1 treat per 10#s of body weight daily. Since putting our newest and older cocker on them her fur has become shinier, softer and the flakiness is gone. The bag costs $2.50 and the treats are soft enough you can break into smaller pieces as long as you seal the bag after each use.
To add to this, she has been eating 1# deer meat cooked and drained along with added rice with either a can of peas, mashed green beans or can of mashed sweet potatoes. You can put the reserve or leftovers in a sealed bowl for another meal to nuke later. My daughter's chi loves this and eats it willingly.
Shampooing the dog I use a good brand oatmeal shampoo and oatmeal conditioner. We got her in Dec. '10 and it's now nearing the end of Feb, so her skin and all over appearance is 100% improved.
Now, after her vet visit, the doctor stated that the flaky skin was caused from allergies and one of her own dogs got this annually. I don't know if the allergy period has ended for our area, but there's no more flaky skin to be seen. I believe it has ended due to the consistency of her caring methods used.
I'll know for sure come next winter.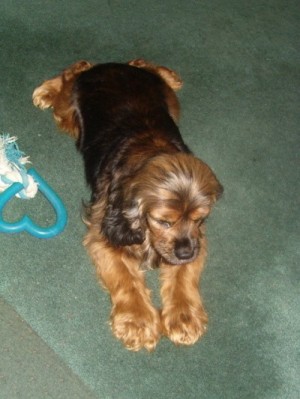 February 28, 2011
0

found this helpful
It sounds like you are addressing this topically. Maybe your dog needs some internal treatment. My mother changed her dogs diet (to Kibble and Bits) and her coat improved radically. Not saying Kibble and Bits is the way to go, just an example.
February 28, 2011
0

found this helpful
My friends two Shepherds had free reign all over the avocado orchard, you've never seen shinier coats! Many dog products have avocado in them just for that reason. Also remember if your four legger is in the house with you all the time, just like us, they get dry skin because the house heater is going all day. Start placing more bowls of water around the house to humidify it.
February 28, 2011
0

found this helpful
Read my past posts. Go effective natural remedy. Food change, Borax in carpet. Build immune system, No steroids (problems come back even worse) lots of easy fix.
February 28, 2011
0

found this helpful
Vets would rather you spend lots of money on prescriptions & prescription foods and allergy test than to tell you to give them premium foods. Try Blue Buffalo, it has no corn, soy, wheat & they also have basics which is the limited ingredient food (has no chicken or dairy products at all) the food in general has done wonders with my Basset's skin problems. Try it you will be amazed & your pet will thank you for it. :)
March 1, 2011
0

found this helpful
Well I had him to the vet. They put him on steroids, didn't work. I was feeding him kibbles and bits, switched to bites and bones and started adding warm water and a little bacon grease. I bought oatmeal shampoo and bathe him every so often, nothing seems to help. I saw the remedy with baby oil and Listerene. I had it so I mixed and am trying that today. The vet said if anything will work it will only take 3 days to see a difference.
I bought the sulfur cream Sunday and used it every time I saw him scratch, but wasn't getting anywhere. Today would have been the 2nd day of treatments 4 or 5 x daily.
What I don't understand is the 3 other Chihuahua's are not scratching and do not have fleas. I do not keep a warm house. My house is 200yrs. old and drafty. I keep my house between 68-70 days much cooler at night because we have heated mattress pads.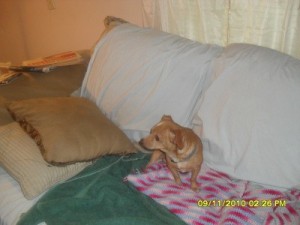 March 6, 2011
0

found this helpful
My schnauzer sometimes has dry skin and my vet recommended spritzing him with distilled water regularly. It worked for him. You can also use one of the skin conditioners/grooming sprays. I have used a product called Minute Groom and it has a nice clean scent plus conditioners.
March 12, 2011
0

found this helpful
What is the ratio of Listerine, baby oil and water? I can't find the site I used to have bookmarked that gave the recipe. My female shepherd is scratching and chewing herself to death! I need to try this. Thanks!
March 16, 2014
0

found this helpful
2 tablesspoons of Listerine, 2 teaspoons mineral oil, 2 teaspoons vitam e, and 1 cup water shake in bottle well add teaspoon vinegar. Shake and spray all over the dog working it in on sides and around the buttocks.
July 24, 2015
0

found this helpful
Shower With Organic oatmeal soap then when dry massage With coconut oil. It works and it's natural.