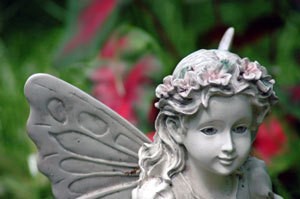 Whether the focal point in your garden is a Roman god, masterfully hand-crafted from Italian marble, or a pink flamingo lovingly manufactured from recycled plastic, years of exposure to weather and airborne particulates can leave them looking shabby and worn out. Here are some easy (and eco-friendly) ways to freshen up your garden statuary this season.
Bronze: Plain old soap and water work best. Use Ivory dish soap or another type of mild, unscented soap to avoid adverse chemical reactions. Wet, suds up to loosen dirt, rinse, and wipe dry. Once dry, apply a light coat of wax and let it dry for 20 minutes. Buff to shine. Different brands of waxes can affect the color of bronze, in some cases making a light bronze turn darker. Test in an inconspicuous before broadly applying. Alternatively, simply wipe off signs of obvious dirt with a damp cloth and let the bronze go on developing its beautiful patina naturally.
Aluminum: (painted and non): Use the same methods as for bronze. If shiny aluminum has oxidized and become dull, use a metal polishing paste, or a 1:1 solution of white vinegar and water to restore shine before applying a protective coat of wax. Be careful not to spill this solution on the ground, as the vinegar will scorch the grass. DO NOT use chemicals containing ammonia (like Windex) as this will promote oxidization.
Cast Iron: (including painted): Clean using a mild detergent and low-pressure hose. Remove any obvious signs of rust and chipped or peeling paint with sand paper or a fine metal brush. If repainting is necessary, prime exposed metal and repaint it using a rust resistant paint like Rust-Oleum.
Lead: Use a mild detergent or cleaner like Simple Green and a SOFT scrub brush or sponge. Rinse with water and let dry. Never scrub lead with a steel-bristled brush or scouring pad. Not only will you harm the finish, but you can also kick up a cloud of hazardous dust particles.
Wood: Wash wood using a mild detergent, and gently scrub and rinse using a low-pressure garden hose. There are several eco-friendly products, including oils, stains, and polyurethane coatings to help protect the wood's finish. Try http://www.biosheield.com or http://www.valhalco.com.
Resin Plastic: Spray with a garden hose, then scrub with a mild detergent and warm water. Rinse. For heavily soiled plastics, try sponging on Simple Green or Simple Wash (made by Biowash). Both are available at large home centers. White plastics will brighten up by naturally bleaching in the sun. After drying, apply a thin coat of wax if extra protection is desired. Avoid using bleach and other highly alkaline solvents as they will eat away some plastics.
Concrete and Natural Stone: (Sandstone, Slate, and unpolished Granite): Use clean water and a scrub brush to remove surface dirt. Use a paste made from Bon Ami and water for tougher stains. If stone is in good condition, use a high-pressured spray from the garden hose to rinse.
White Marble: White marble can be cleaned using the same methods as for natural stone. To bring it back to bright white, apply a paste made from water, Bon Ami and a environmentally-friendly bleach substitute. Wrap the statuary in plastic and let it stand for 24 hours. Rinse with water. Test in an inconspicuous area first. Note: I don't recommend using regular bleach for whitening marble because not only is it hazardous to the environment, it will burn or kill off any surrounding grass exposed during rinsing.
Waxes and Cleaners
Water: Use it alone, or as a pre-soak when a stronger cleaner is necessary. Water from the garden hose will work just fine for washing and rinsing, just be sure to turn the nozzle to lowest possible pressure to start with. If you have extremely hard water, consider using distilled water if economically feasible.
Neutral or non-ionic detergents: These terms comes up a lot among sculpture dealers. Nonionic detergents have a neutral pH, and are used in several commercial dishwashing liquids. Nonionic means they will not react as readily with hard water ions. They also foam less so they are easier to rinse off (you don't waste as much water rinsing off suds) and they are less likely to leave a soapy residue. Mild commercial detergents like dove or ivory are only slightly alkaline and will work just fine. With a pH of about 8.0 (7.0 being neutral), they are next best thing to neutral. Besides, they are "far" more economical and you can't keep acid rain from falling anyway, can you?
Automotive Wax vs. Plain, Clear Wax: Automotive wax usually contains cleaners in addition to wax. It's not always possible to know how these cleaners will react with your statuary, and they also leave a white film behind, which can be difficult to get out of detailed pieces. For these reasons, it is best to stick with a plain, clear wax like Johnson's Clear Paste Wax, or Renaissance Wax. Both are excellent at protecting finishes, Johnson's Wax being very economical and Renaissance Wax being more expensive, but of museum quality. Either can be applied using a soft cloth or stiff paintbrush. If you have some automotive wax around and what to give it a whirl, go ahead. Just test it out first in an inconspicuous area before applying it over a large area.
General Cleaning Tips
How dirty something is, is subjective, so before getting started, assess whether cleaning your statuary will actually do it more harm than good. For example, if you have a stone statue showing signs of deterioration like chipping or flaking, you're probably better off leaving it alone, or calling in local restoration experts. On the one hand, dirt and wear from the elements can serve to enhance the appearance of a piece over time, turning your statuary into a relic of antiquity. On the other hand, dirt may be all that is holding it together.
Determine what type of material (limestone, marble, iron, bronze, wood, aluminum, plastic, etc.) your statuary is made from in order to determine the best methods for cleaning it. Remember that different metals and different types of stone may each react differently to the same types of cleaning compounds. Always start by using the most gentle tools and non-aggressive cleaning solutions you possibly can to avoid harming statuary surfaces. If necessary, gradually move toward more abrasive tools and stronger cleaning solutions.
Before using tools or applying cleaners to any statuary, completely saturate the surfaces to be cleaned with water. Use a garden hose instead of a bucket filled with water when washing or rinsing. Applying the water with a rag or brush simply returns dirty water back into the bucket where it contaminates the clean water and ends up right back on your statuary.
Scrub stone and metal in a soft circular motion to avoid streaking or eroding the surface. When washing wood, simply follow the grain. Soft-bristled toothbrushes, and bottlebrushes are great for getting into that hard-to-reach spot or cleaning areas with intricate details.
I have a three foot plaster (of Paris?) column and it has a strong, "soft" odor. It was outside in the past and it is now in my home. I feel like I'm breathing in spores. It has some black "stuff" in crevices and the start of patina green. Any advice?
Thanks in advance.
Answers
January 4, 2017
0

found this helpful
The black stuff is mold. A diluted solution of bleach will kill it.
January 4, 2017
0

found this helpful
Mold. Plaster retains moisture so it will be difficult to get rid of. Use a mold killer or bleach on it and keep in a dry wel ventilated area. You may also need to treat it several times or use a kilz type of paint on it as well.
January 5, 2017
0

found this helpful
What you have is black mold.Clorox will help,but the best way to kill it is with vinegar.Black mold is very dangerous! Put a mask on ,then put the vinegar in a spray bottle and spray it on the stand outside.Scrub it down with a small brush.If this does not kill it ,then spray it down again!Do not get this mold on you,as I said,it is very dangerous!
January 5, 2017
0

found this helpful
Any solution would be a lot safer if you were able to take the column back outside to clean.
If it is in your house you will have to determine what might/can be ruined if a bleach solution is used.
A lot of people use a bleach solution (generally 1/2 cup to a gallon of water) but you should only use this in a well ventilated area, using gloves and also a mask would be safer. If necessary, a stronger solution (1 cup bleach to a gallon of water) can be used but the milder solution would probably work.
Let the solution remain for at least 15 minutes before rinsing with a water and maybe Dawn mixture.
I definitely prefer vinegar (same mixture (1/2 cup to gallon water) as there are no toxic fumes and will not ruin anything it touches.
A good rinse and use sunlight to finish the job.
It would be safer to get rid of this item If one of these methods does not completely remove the mold.
January 14, 2017
0

found this helpful
Odoban would take care of the mold, bacteria and odor in a less toxic way. It's around $6 at lowes or Walmart.
Read More Answers