I was born in a large family. Our needs were met. We had a roof over our heads, food on the table. Beans, potatoes and cornbread one day, then potatoes and beans the next.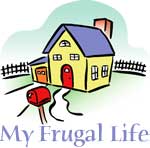 Meat once during the week and once on Sunday. None of us were fat. We were skinny. We did our chores, and we did what we we told. We learned that respect for the elders, was very important in our lives. Survival skills is a must. How to make ends meet on a dime.
I started babysitting when I was twelve. I volunteered and gave my parents room and board. We did not live on food stamps growing up. I lived when the Depression was still felt. I waste nothing. Especially food. After I have served a roast, potatoes boiled in quarters, green beans and corn. I divide whatever is left. I make soup the next day, with half. The rest I freeze for later. Pot pies are great for the leftovers, I put in the freezer.
I made lists of what my family likes and doesn't. If you buy food on sale and your family won't eat it then it is a waste. I clip coupons. I buy in bulk on sale items. Each can of green beans serves 2 people. I always add an extra serving for unexpected guest. After all It won't be wasted. I try to plant a small garden to help with food. Squash is the best. Stir fry.
I mend our clothes. It is a lot cheaper to replace a button, then buying a new shirt. When the clothes wear out, I cut them up and turn them into lap quilts or rags to wash the walls or car. The dish water is used to water the plants. It saves on the septic system. Also the dish soap kills aphids on the plant and food particles puts nutrients back into the ground.
I am a simple country girl at heart, that has brought, simple values of being saving. Waste not want not, that has kept a roof over our heads and food in our bellies. I stay prepared for everything. I worry about preparing for the winter in the summer, and I prepare for the summer in the winter. I have taught my children how to survive. It is up to them to follow, all survival rules. I am in my senior years. I am 54 and I have my lamp always filled and ready for anything that this short life has to offer.
Written by Ellen Lou Severs, Author and Artist of A Whisper Through Life
Do you have a frugal story to share with the ThriftyFun community? Submit your essay here: http://www.thriftyfun.com/post_myfrugallife.ldml