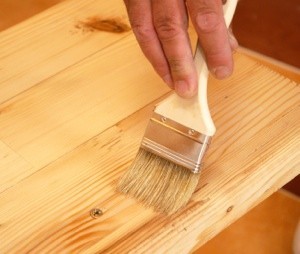 When furniture goes out of style, it's a serious investment to replace it. Knowing that, it becomes even more important to select furniture that will outlast years of style changes and physical abuse. However, you can't change the furniture that you may already have. There are ways to make it fit today's styles.
Choose Wisely
Prevent the problem before it starts. During the initial purchase, be sure to select pieces that will withstand time. Don't match pieces to the color of the room; rather, choose tones that will coordinate with a variety of color changes over the years. If you don't, a change of accessories and a gallon of paint will make your furniture look outdated and out of place.
When selecting wooden furniture, it's important to keep in mind that no matter how carefully you move around it, there will most likely be dings and nicks over the years. Choosing something with a solid base makes touch ups easier over time.A classic style like mission furniture will look great in various room styles. It also is a heavier, sturdier style to withstand your little superman's vaults.
Don't opt for the latest in fashions. You'll regret it five years from now.
Updating Upholstery
Outdated upholstery can be covered with a quick slip of a slipcover. Either a bought cover or a homemade one will work to update your furniture. Purchase some reduced price drapes or bedspreads if you plan to make your own slipcovers. The key is fit, so be sure that slipcovers fit snugly.
If a slipcover isn't available at the moment, opt for a pretty throw instead. Drape a coordinating throw diagonally across the back and seat of the sofa and then add some updated throw pillows to the side. This is a great trick to use for company and a less than pristine sitting area.
The 70s Just Aren't It Anymore
Somewhere out there are hundreds of bedroom sets in the whitewashed wooden style of the 1970s and 1980s. The saddest part is that underneath these out of style finishes are solid wooden pieces that are expensive to come by today. Potential becomes even more important in this case.
Unless you're willing to spend hours stripping and refinishing furniture (and depending on the finish this may not always be possible), look for creative ways to cover rather than uncover. If you're an artist, try painting a family mural on your dresser. An end table or family table can be painted with a stick figure group that represents your family (think of the decals seen on the back of cars).
Less artistic owners can paint the pieces in coordinating colors for the room or soft tans and browns to mimic the original wood. Finish off your painting with several clear coats of acrylic sealer.
Whatever you do, don't forget to replace old hardware with new or classic hardware. Something aged and antique will make a nice addition at a flea market price, but new pieces can be purchased a few at a time. Often times the seemingly out of style piece might look updated once the hardware is replaced.
Comments
Read More

Comments