Being a young woman who is not from the most well off family, I have and hold frugality close to my heart.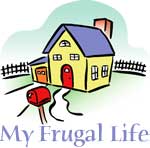 From the patchwork duct tape tent to the tea pot water jug I've grown up with, the beggars can't be choosers mind set has gotten me through some weeks with only $20 in my pocket! Now I've moved out on my own for the first time and am loving it, thanks for the training from Mom and Dad.
The local Dollar Store has turned into my oasis of last minute affordable random things. Some that serve to entertain, like the Valentine's Day misspelled Velcro dart board and the makeshift mini canvases with cheap pastels to doodle on. Other things serve to fill the void until a slightly higher caliber tool can be purchased, such as the sifter that rusts or the cheese grater that buckles, all things to laugh at and enjoy. I'm wary of the food aisle, but who isn't. That can serve it's purpose for the less questionable things like salt and pepper, and of course, candy.
It's more fun when you don't NEED to be frugal, but hey! That's life. For now, I'll just enjoy it frugally.
By Lindsey from Toronto, Ontario
Do you have a frugal story to share with the ThriftyFun community? Submit your essay here: http://www.thriftyfun.com/post_myfrugallife.ldml