What works for me?
I buy groceries and run errands in town two days a week when I go to my exercise classes to save on gas.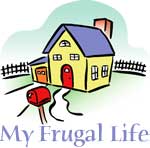 I grow my own vegetables and eat them fresh or freeze them when we get too much, to eat during the winter. I make freezer jam from our raspberries and freeze our blueberries for winter eating. I make applesauce and apple pies from the apples in our trees. We raise our own beef and gather eggs from our chickens. We sell some of the eggs to make a little spending money. We also, from time to time, make and sell our own hay.
I'd say I am quite frugal and I enjoy the exercise I get from weeding the garden, I like listening to and watching the birds as I weed, besides it keeps me healthy. I also love the smiles I get when I give extra food to the food bank or Senior Center or as gifts throughout the year!
I find living the frugal life has kept me out of trouble and made me stronger! I work hard from spring to fall and then relax during the winter. The one thing I'll never get used to though is smelling the dairy air when the manure is sprayed on the fields!
Jackie from Enumclaw, WA
Do you have a frugal story to share with the ThriftyFun community? Submit your essay here: http://www.thriftyfun.com/post_myfrugallife.ldml