November 24, 2010
0

found this helpful
I do my holiday decorating. I haven't done Black Friday for at least 20 years, mainly because I am too old.
November 24, 2010
0

found this helpful
Cheers! to thinking with your head! all this "buy buy buy" commercialism to do with Christmas anyway was a set up by retailers to make enormous sums of $ for themselves! I actually gave my daughter and then grandkids money at Christmas so they could shop after Christmas when everything was 50 percent off anyway! (he he he!)
November 24, 2010
0

found this helpful
Thank you! I don't do Black Friday shopping myself! All those people crammed into a store makes me stressed out and crabby, and it's all me me me, very little to no consideration for others. If I find myself wanting to go shopping that day, it is always much, much later in the day/evening once the early bird whackos have left and the traffic is closer to normal. If I am up to it at all.
(Early birds, please don't take offense! I am referring to the whackos who end up trampling someone to get a discount DVD player, because that is whacko! I feel this is more likely to happen early too when all the "good" stuff is still in the store and everyone wants it.) I used to have to work Black Friday when I was in retail. Never again if I can help it!
And great suggestions! I am excited about the new Stephen King book too. :)
November 24, 2010
0

found this helpful
Sensible ideas really. I dislike getting out in large crowds and heavy traffic myself. Not worth getting into any mishaps. Christmas is a special time and it should produce more kindness from others; not horn honkers, snatch and grab shoppers, inconsideracy of any type. We all need to think of Christ and follow his examples no matter where we go. After all, Christmas can be a glorious event for each of us if we slow down, enjoy and remember to worship HIM and not the gifts.
November 24, 2010
0

found this helpful
How great was this tip? I was a retail manager for 25 years and you can betcha your bippee that my old, tired behind never went into any store on Black Friday after leaving that profession. Loved, loved, loved this, and you gave my "little psyche" a big smile today. :)
November 24, 2010
1

found this helpful
I have never ever done Black Friday shopping! I think it's crazy when I see most people having to park in Egypt, then have people not paying attention to who is around them blocking the isles or running in to others in their personal hurry flurry, stand in long lines for purchases that are usually more than were even planned for because of in-store sales pitches and people being grumpy because they are tired from the maddening crowds while already tired from the Thanksgiving Day before. Hmmm, what a lovely day and way to prepare for Christ's Birthday! Not! ;-)
November 24, 2010
0

found this helpful
Thanks to the responses so far! Keep em' coming!
PBP
November 22, 2015
0

found this helpful
Sandi/Poor But Proud You do write a lot of good articles here. This one about Black Friday is great. My family and I never shopped on a good Friday because the same things stores advertise for people are very few to get people in the door. You can get the same thing later in the year at the same price or lower at the same stores, and of a better quality no matter what you buy, so why rush, get trampled on when everyone is going for the same thing. We won't even go into the stores the next day. If you have no money to give gifts why not give of your time to friends and relatives like maybe taking them shopping or if they are unable to do shopping go do the shopping for them, do some cleaning for them, take care of any pets they have like feeding them or walking them, babysitting for free. Why not give all year around than on just one day a year? We don't have money for Christmas but we do decorate and have a nice dinner and invite friends over who don't have anyone. We pray and are thankful for our health. My mother who is deceased now always said if you don't have your health you have nothing. So give all year around of your time for people and love and help everyone you can. To me that is more meaningful than getting Christmas presents once a year. If you need anything during the year you can always make something if you sew or even make things from wood and give it to someone. If you follow the sales all year things are cheaper during the year than at Christmas time.
November 24, 2010
0

found this helpful
Mahalo for taking the time to write this list. The TF community is so generous. Love being connected to such wonderful souls.
November 25, 2010
0

found this helpful
What is this Black Friday?
Marg from England.
November 25, 2010
0

found this helpful
Black Friday is the day after Thanksgiving in the US, often called the biggest shopping day of the year. The shops put everything on sale and things can get a bit out of hand! The equivalent would be the Boxing Day sales in the UK.
November 29, 2010
0

found this helpful
I don't get out on Black Friday, way too crazy. More stores were open on Thanksgiving Day with sales this year. I feel the Retail Stores, Media etc., have skipped over Thanksgiving and just think about the money and greed. Everyone is in such a hurry these days, it's out of control.
November 24, 2014
0

found this helpful
You sound like me! I have a few traditions I rotate each year. We collect ground pine and pinecones and make wreaths for our families, elderly neighbors or family grave sites with our adult children. Last year my daughter and I created hand stamped Christmas cards and this year we are going to make pine cone ornaments (I just made two samples today and will be entering them on thrifty fun as a craft soon
November 25, 2014
1

found this helpful
You don't really get the best deals on Black Friday anyway. That's because a lot of Black Friday merchandise is made specifically for Black Friday with cheaper parts so they can sell them cheaper and still make money. Those things aren't made to last any length of time after you bring it home, so if you even get 6 months out of it it's a bonus.
This is especially true of electronics.
November 22, 2015
0

found this helpful
Abigail this is true what you said for Black Friday, go later in the year and things will be the same price or cheaper and better value for the money you spend. Electronics have all the kinks taken out for the games and you also have a better product.
November 22, 2015
0

found this helpful
Thanks. I shop for Christmas all year. By this time I am done. I can get the best deals because stores and websites have cyclical sales. Year-round shoppers know this. I've gotten up to 80 percent off with clearance sales. 40 to 60 percent off is more typical. I rarely pay retail for anything.
November 22, 2015
0

found this helpful
There is no point in being so judgemental about people whose ideas are different from yours. Some people enjoy the rush. While it is not your (Or my) cup of tea, that doesn't make them idiots because they are different. Think about it.
January 7, 2017
0

found this helpful
On Black Friday I am decorate for the Harvest and Thanksgiving season and begin to make the table scape for the Christmas season on my dining room table, unpack all the Christmas ceramic pieces and put them all only tables,buffet and other places in my home. Christmas linens are brought out of the Christmas bins and napkins folded, dish towels are placed in the kitchen area, Christmas bath linens put on the racks in the bathroom, vignette sexy Christmas seasons are created on the mantle, in different places in the home. The artificial Christmas tree box is brought out of the closet, an inventory of the Christmas ornaments I want to use on the tree this year will be made the plastic bags will be brought out of the storage unit. The Christmas tree is the last item that is assembled on Black Friday. I have a large collection of Christmas ornaments so therefore I use different ornaments each year so I choose the ornaments each year that are different from year to year to make my Christmas tree beautiful. During the weekend of Black Friday, I also compile recipes and make the menu for Christmas Eve and Christmas Day meals. My husband decorates the outside of our home; I decorate a roadside mailbox with Greenery from our yard and a large mesh ribbon. Black Friday weekend is a very fun filled weekend for my home and the decor changes from warm Harvest colors to bright glittery colors of the Christmas season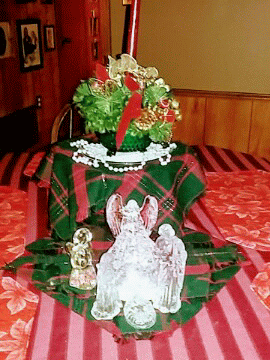 January 7, 2017
0

found this helpful
Please excuse some of the grammar and wording in my post, I am legally blind and I use voice text and I did not realize there were some words in there that are inappropriate but I did not mean to say that those words thank you for your kindness
October 25, 2017
0

found this helpful
You did great! I didn't see one mistake and even if I did, that's okay too. Thanks for the kind response. PBP