As a woman and a wife with two kids (both under the age of 6), I've taught myself to be frugal. I spend only what is needed and reuse what I have.
I am the type of women who worked hard. I started from the bottom of the working chain and made it to the top.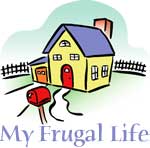 I have more than 12 years management experience. I had so much control over my financial situation, then one day it all went away.
I used to be a mom who would buy fashionable clothes for her kids weekly. I would buy fast food and things that I already had, but with an extra design or a different color. Now that I don't have much, I realize all the stuff I had was so usable.
For example, some of clothes my son still fits in. If he doesn't, I cut them into shorts for the summer. My daughter is petite and I cut her pants into shorts as well. We use clothes with different designs and cut them out for crafts like coasters or place mats for the table. We use the ones that are cotton for rags around the kitchen. Sew up old blankets and make them into fun floor pillows for the kids. We recently used a pair of shoes and put little plants in them. We also use old cans as lanterns for outside after we decorate them.
In conclusion, being frugal is a smart way to be. We sometimes don't realize how much money is being spent for unnecessary things. A simple day to the park with a watermelon, chips, sandwiches, and a gallon of water and kool-aid will be fun even to us adults.
Thank you,
By rocknrollmom from Los Angeles, CA
Do you have a frugal story to share with the ThriftyFun community? Submit your essay here: http://www.thriftyfun.com/post_myfrugallife.ldml