Chewey (Cat)
Chewey our cat loves to dress up for the holidays. She's dressed in a Santa hat and cloak. I made her outfit from scraps of red and white felt and some white yarn.
I measured her head and body and for the hat I cut out a triangle from the red felt stitched a piece of white left over felt for the rim. For the cloak, I had a piece of red felt large enough to fit around her neck and hang off her shoulders. I sewed another piece of white felt around the collar, and two snaps on both sides.
By belen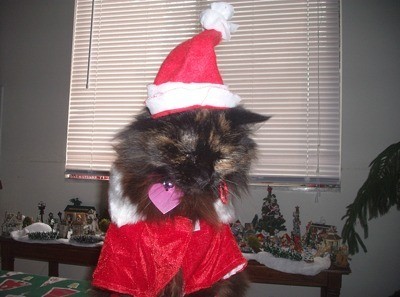 Add your voice! Click below to comment. ThriftyFun is powered by your wisdom!
Chewey is a 3 year old Angora mix. She was a gift by my daughters and a friend. Chewey likes to chase and catch lizards, and go through my desk drawers and try to dig out a treasure. She thinks that a sofa's armrest is her pedestal and sits on it to watch TV with us.
Here is a picture of Chew after she was washed.

By belen
Answers:
Chewey (Cat)
How cute. She's found herself a hair ribbon. Thank you for sharing her with us.
MisMachado (10/07/2010)

By Marsha
Chewey (Cat)
She is definitely pleased with herself about something. She is a beautiful cat.
Thanks for sharing.
Songwriter (10/08/2010)

By Clyde
Chewey is a 2 1/2 year old hybrid mix. She was a gift about 2 years ago. She likes to hang around play with golf balls.

By belen