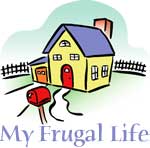 Hi, my name is Jen. I just turned 37 on 8/6/07. We have been fated to a frugal life and are coming to love it. I have a home with my husband of 8 years, and our 4 girls, Holly, Hailey, Hannah and Harley. We could not have kids as I had ovarian cancer. So our girls are our 4 rottweillers. They are house dogs and very loved.
My husband was injured and almost killed in a work accident 4 years ago. He is now disabled. I became ill a year ago. During his accident we lost our new vehicle and almost lost our home. During my illness, we did lose our home. Luckily, he was able to purchase a home in his name.
The home used to be a horse farm. It has been vacant for over a year. It smelt like a barnyard. I have gotten the stink under control, except for the carpets in two bedrooms. I have shampooed them with various cleaners, used baking soda, and even carpet deoderizers. I have no idea how to get rid of it, short of tearing out the carpet. I am still working on my other half to let me get more critters. The barn needs major cleaning first anyway. Glad to meet you! I still work full time for a wonderful company. And am working at getting healthy again finally.
My husband was raised in a very old fashioned home. I was raised with not much money but an abundance of love. I can remember mom putting clothes in the bathtub and having us girls get in and step all over them to help clean them. That is how we did our laundry. I can remember having no money for Christmas gifts so we picked walnuts out of our yard and the whole family would sit around taking them out of their shell and putting them in decorated jars for gifts. I hope to do landscaping and a garden next year as I love to do both. We have not had the funds, the health or the time to do this yet at our new home.
We have only subflooring in the kitchen, dining and living rooms. We have pet stenched carpet in the bedrooms. No matter what, I can't get the stink out of the carpet. We hope we have finally got rid of the mice and fixed the nine water leaks so far. My husband is becoming quite the plumber. Our dogs are our kids. You will learn more about them in a minute. We have a pond that desperately needs cleaned. Hopefully next year, I can have a garden and do some landscaping. I have been bugging Ray to let me have a hobby farm, but no luck yet. I will keep working on him. I work at home. We are always busy but never leave home. And we love it. There are days it is a challenge but the rewards will be worth it. I needed to set up my office in a room in the basement. I found a box of wallpaper for $3 at a garage sale and had a can of leftover white paint. I used it for my office which is beautiful now. We have acquired a "tom" cat, who just got his first mouse. And a special needs kitten, Spike. Spike can't walk normally or hold his head right, but he fits right in with the rest of us.
My oldest, Holly Marie, was with my husband over the road driving truck for the first year of her life. To this day, she will bounce like a puppy when she hears a big rig. She is now 11 and the arthritis and bad hips are showing. She tends to need a little more time for one on one, away from her sisters. When Holly isn't guarding her food dish and grumbling at Hannah, she is watching TV. Yes, she watches TV. On good days, she will chase any animal or the WalMart dot all over the screen. This has resulted in many a nosebleed. I won't begin to describe the gouges in the screen from her biting at it. She still hops up and down, bouncing, when she really wants something, like a rawhide.
For as long as she is alive, we will never own a new TV. She would literally go through those new plasma TVs. When the nieces and nephews are over and watching TV, they often ask for Holly to go to her room so that she isn't barking, jumping and biting at the TV. Of all our girls, she is by far the smartest. When it is cuddle time, you can tell her to turn around the other way, and she does. She is beautiful with her crooked smile and buggy eyes. She prefers spending her days lounging with me while I work in my basement office. Sometimes, I even have to wake her as she is snoring so loudly, clients can hear her on the phone.
Next in our family is Hailey Sue, she is 8 now. She was our first puppy we picked together. However, when we went to look at the pups, we had a different puppy picked. Hailey would not stop bumbling at our feet, chewing our shoelaces and tugging on our pant legs. She picked us, rather than us picking her. She isn't quite as smart as the other dogs. Hailey spends most of her day trying to stand on "her" ball. She rolls it around the yard, trying to stand on it, as a bear does a circus ball. She never tires of this. She will bark at the ball when it gets away from her, as if saying "get back here". She has a heart of gold but is certainly the protector of our family. Ray was working nights, and Hailey chose her spot in front of my bedroom door to stand guard as her sleeping spot. One night, Ray came home early, walked up to the screen of the bedroom window, and Hailey was up over me and at the window ready to attack, before I knew what was going on. Of course, once she knew it was Dad, she was all licks!
Our next addition was Hannah Mae. Hannah is now five but acts like she is three months. We chose the name Hannah as it means God's Gift. Hannah was born blind in a litter of 11 pups. My Aunt Cathe, who was my best friend, was very sick at the time. Pretty much confined to bed. She bottle fed Hannah every two hours for the first three weeks of Hannah's life. One evening, after washing her hair for her, Aunt Cathe sent Ray to another room. He came back with a box. In the box was a teeny tine puppy and a stuffed big bird. There was also a bowl for food and a spoon my aunt had been using to teach Hannah to eat. That spoon is still in my kitchen drawer and Ray's favorite. That bowl still in the cupboard. Big Bird has been repaired and replaced more than once. My aunt died that summer, the day before my birthday at the very young age of 46. Hannah was the last gift she gave me. Hannah is our spaz. She can see now but she can't even stand still to eat. She is an eternal puppy! And so cute! She will spend all day diving for rocks in their pool. Yes she puts her entire head under water. You just have to keep throwing the rocks. I always have ear meds as in the summer she has continuous swimmer's ear. When we brought her home after being spayed, the vet asked if we wanted to put her on doggy downers to calm her down. We didn't, we love Hannah as she is. We are always kidding that Aunt Cathe is whispering in Hannah's ear telling her things to do to annoy people.
Hannah likes to have the vacuum cleaner hose suck her tongue. She has liked this since she was a baby. You cannot vacuum with her in the house, she won't leave it alone. Nor can you leave the vacuum plugged in at night because she will turn it on so that she can play. She is forever our puppy. Oddly enough, the kids who are the most active tend to favor her as their favorite dog. Hmm? Is there a connection here?
Last to our family, but definitely not least, is our Harley Ray. She was Hannah's litter mate. And the largest pup. Harley and her brother, Davidson, originally lived with a friend of ours, Mike. He was an older guy, alone, and spent every waking minute with Harley and Davidson. The pups were about four months old and it was bow season. Mike fell out of his tree stand and was hurt badly. A few days went by, Ray and I were ready for bed and it was storming, sleet and ice. We realized no one had mentioned Mike's pups. We got dressed and drove to Mike's. They were out in the horrible weather, no shelter, no food, no water. Harley could not even walk, she pulled herself around with her front legs. Mike's family felt that since he would be in a wheelchair, he could not have the dogs. Ray and I felt that the dogs would be the best thing for him and his spirits. Unfortunately, Mike passed away right before Thanksgiving that year. He was buried with the picture of his dogs in hand.
My brother in law, who "would never own a rottweiller" fell in love with Davidson. Davidson became the second rottweiller in their family. Harley remained with us. As weeks went by, she slowly began to be able to walk again. She was as in love with Ray as he was with her. He must of been dreaming one night of her and says "Harley Ray", thus her name. She is opposite of Hannah in size. The vet hasn't made us put her on a diet yet. She is not energetic. If she could find a way to attach to you and be petted 24/7 she would. Even though she is a whopping 146 lbs, she still thinks she is a lap puppy. Her biggest thrill, aside from attention, is to chase the water in a circle while the sprinkler is going. We have to turn the sprinkler off after a couple hours because she will run so long that she is miserable sore the next day. She is our lover. She has eyes like an angel, such long beautiful eyelashes.
Planting a garden so I can do canning and freezing is our number one goal towards a frugal life for next year. Right now using all we can to make our home the best we can. There was a pile of old metal siding and boards way out in our new field. Ray has used almost all of these materials and been able to enclose a garage on the house. Not fancy, but it works. I bought a $5 Craftsman Gas Weed Eater at a garage sale. Ray cleaned it up and it works great. It is a good thing because until a few days ago there was no yard. Ray has been busy. We are going to be getting ducks to clean our pond. I can't wait I love critters!
When I lost our home, I was devastated and not sure I could deal with it on top of being sick. I now know, it was a blessing in disguise. We lived in the woods until we could close on the new house. Probably about two months. No running water, no electric, but we were together. During the week, I would stay with family and friends so I could work. Anxiously awaiting Thursday evening to join my family. We had never been apart. Ray even stays at the hospital with me, except for when I had to stay at Mayo in MN. The only time we have been away from the girls is vacation and Mayo clinic. We won't be doing vacation again because we can't find anyone good enough to watch the dogs. How funny is that?
To look around our home it isn't much but it is a home full of love. There are weeks we don't have much for groceries, but there are so many ways to make meals go a longggg way. We live very simple. Our vehicles are all at least 12 years old and well worn. With the exception of the beautiful car, my father in law gave us to take to the clinic. But we only use that for special occasions. I remember a time as a little girl, I wanted to live like Little House on the Prairie. Well, we did that. Now we are just living a frugal, wonderful, peaceful life!
Well, thank you for taking the time to meet my family! Our Best to you and yours!
Jen from Hastings, MI
Do you have a frugal story to share with the ThriftyFun community? Submit your essay here: https://www.thriftyfun.com/post_myfrugallife.ldml