March 16, 2009
0

found this helpful
Top Comment
I made a trellis for a climbing jasmine out of a dog crate that I no longer used.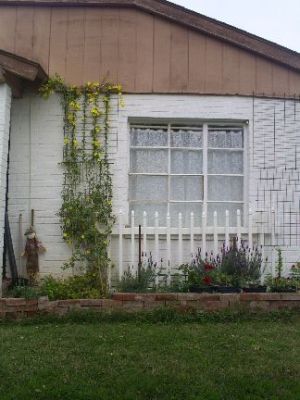 December 20, 2008
0

found this helpful
If it's made of steal, I bet it will look even better when it rusts! ... Plus it'll add iron to your soil!
By Elaine (Guest Post)
December 21, 2008
0

found this helpful
Do you have pictures? Would be helpful to see them.
By Andrea (Guest Post)
December 21, 2008
0

found this helpful
Hi,
would you have a photo of it?
I am trying to picture it and I can't get a good image.
Thanks a lot and have a great holiday season,
Andrea
By Liz (Guest Post)
December 24, 2008
0

found this helpful
Now that's recycling.
Liz
By Lynda (Guest Post)
December 29, 2008
0

found this helpful
Great idea! I did the same thing with an old headboard...but ACCIDENTALLY. A large Carolina Star Jasmine Vine had overgrown and had been braced up well, so we thought, by a painter of our house. I had intended to set the old but still good heavy wooden headboard out for garbage pick up on another day, so I leaned it up on the two weaking pipes hammered into the ground tied together with long nylon rope, in hopes that it would keep the Vine more like a bush when pruned. It worked for a single season and I began trying to get the pipes straight beneath it, noticing that the old heavily stained with laquer wooden headboard had been leaned at just the right position to begin supporting the posts FOREVER as they leaned together...AND hold the Vine, combined to make a sort of hidden low trellis which the Vine loves and blooms it's healthy heart out each year now.
A true "secret Flower B E D! lol I'll keep watch for an old bed spring to tackle next time I need one and am in the mood for yet another project!
September 10, 2012
0

found this helpful
It is a great idea, amazing what some imagination can do to recycle stuff. But puh-leeze...all those bed puns?! Ha Ha Ha!
September 11, 2012
0

found this helpful
We really need pictures of this great idea! ;-)