Unsticking Glass Dishes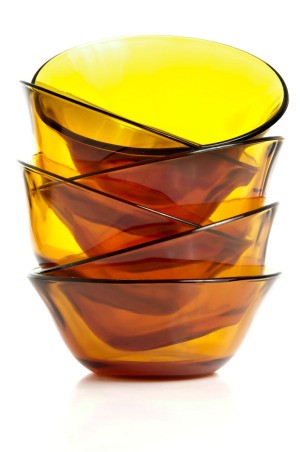 Stuck bowls or glasses? No Problem! Forget WD 40, and ice and hot water. Try this: non-stick cooking spray around the stuck rim, wait 10 seconds, tap lightly with a wooden spoon upside down. And, Voila! Unstuck with non-stick.
By manofewords from San Francisco, CA
Comments
Read More

Comments
More Solutions
Share on ThriftyFunThis page contains the following solutions. Have something to add? Please share your solution!

When glass glasses get stuck together, it can be challenging to separate them, lest one or both break. I solved this by carefully pouring a small amount of vegetable oil between them and letting them sit overnight for the oil to disseminate.
Read More...
7 Questions
Ask a QuestionHere are the questions asked by community members. Read on to see the answers provided by the ThriftyFun community or ask a new question.

I hope you can help me with this. I have two small cut crystal bowls. One is nested inside the other and I can't get it out. Any ideas?

Thanks,
Sue
Answers

April 14, 2007
1

found this helpful
Best Answer
The bowls have been stuck together for at least a year. I tried the WD 40. No luck I let it set in hot water with ice cubes in side the upper bowl. No luck I'll try leaving it sit in more & Hotter water for a while. Ant recommendations on what is best to tap the glass with? And where to tap the glass? I'm glad it has worked before, there is hope it will eventually work in this instance also.
Thank you. Betty
P.S. IT WORKED after I put the bowls in a kettle with cool water and heated it on low + and put ice cubes in the upper bowl AND had put WD 40 between the two bowls and had tapped on them about four times with a wooden handled utensil. AND ALL THIS TOOK only 3 hours. Thank you!!!!! Betty in ORegon
By Denise (Guest Post)
August 5, 2008
0

found this helpful
Best Answer
Yup, WD-40 is the key! One squirt on my stock ramekins and they practically fell apart. Of course, I tried ice and cooking oil, to no avail, before I found this post.
By Helen (Guest Post)
December 26, 2008
4

found this helpful
Best Answer
I LOVE the internet! I had 2 bowls nested and stuck this morning...tried hot water, microwaving them, freezing them and pouring safflower oil between them Then I checked the net, found this site, got the WD40, tapped with a spoon and BINGO! Thank you!

November 23, 2016
1

found this helpful
Best Answer
I had the same problem with 2 Corning ware bowls. I tried the hot water before I searched and found this post. I then applied Wd 40 and it allowed them to budge. But still stuck, in a different position. After a few minutes I thought a wedge might work. So I chopped off a few pieces of a spare 2x4.
I used a hammer to gently wedge one splinter into the open side of the jam, and another splinter on the tight side. Upon hammering in the splinter in on the tight side the two bowls separated. Possible the wd-40 pulled with the wood wedge is a nice solution. Worked for me!!!
Answer

this Question

I have two glass casserole dish lids that are stuck together like glue on paper. I have tried soaking them in hot and cold water, banging them apart, dish soap, oil, and a knife to try and separate the two. I have been unsuccessful so far. Does anyone have the magic solution to this odd and inconvenient problem?
Nita from Michigan
Answers
By rosa (Guest Post)
September 22, 2005
1

found this helpful
Best Answer
Have you tried cooking oil to try to get them apart ? or the bakeing spray , like pam ,ect . maybe if you spray the lids with that in the area where they are stuck together you can work the apart .

Holly
Silver Post Medal for All Time! 364 Posts
September 23, 2005
2

found this helpful
Best Answer
Put ice in the top one, that will make it contract. When it gets good and cold, try separating them.

September 24, 2005
0

found this helpful
Best Answer
Cold will contract (shrink) glass and heat will cause it to expand. It isn't visible, but it is enough to help get stuck glass items apart.
Cool the inner lid (ice sound like a great idea) and warm the outer one at the same time. This should help. It is the preferred method for separating 2 glasses stuck together, there's no reason it can't work for lids.
Denise
Answer

this Question

I was warming up some food in a large bowl by putting water in a glass pot and putting the plastic bow on top. Now the bowl is stuck inside my glass pot and I can't remove it. There is still a small amount of water in the pot but the bowl is embedded.
Staffney from Baltimore, MD
Answers
By Sharon (Guest Post)
December 2, 2008
1

found this helpful
Best Answer
I had something similar happen with 2 pyrex baking dishes. I tried the hot/cold water method to no avail.
Finally, on a whim, I sprayed both dishes with WD-40 and they slid apart like a charm.
By Cathy from Townsville, QLD (Guest Post)
January 14, 2009
1

found this helpful
Best Answer
Hot water expands fibres in certain materials. You need to shrink them instead. Try popping it in the fridge for a while or fill with icy cold water, and try separating them again.
Answer

this Question

I have two 4 oz Pyrex measuring cups stuck together. Does anyone have any advice to "unstick" them?
By Yggep from Lewes, DE

Answers

February 9, 2010
0

found this helpful
You might try putting the bottom measuring cup in a bowl of very hot water and then putting some ice cubes into the top one. Then gently twist the top. It may take a couple of tries, but it should work.

February 9, 2010
0

found this helpful
An additional thing you could do is try to put drops of oil in between the two. Place it drop by drop at the seam between the two all the way around.

February 9, 2010
0

found this helpful
Dip the kitchen paper towel in water squeeze it out micro for 30 seconds then wrap the Pyrex cup with the hot paper towel and leave it for 10 seconds then the cups will automatically get released if it doesn't work try again for a couple of times you will certainly be successful.

Elaine
Bronze Post Medal for All Time! 172 Posts
February 13, 2010
0

found this helpful
I would just try ice water. If I remember my science, cold contracts.

(Guest)
Gold Post Medal for All Time! 846 Posts
February 13, 2010
0

found this helpful
I do what ppcaffrey does but I put the ice cubes in for a little bit before placing in the hot water so that the inside glass has already contracted. The hot water doesn't need to be from the stove, just put enough 'hot' tap water in the sink to 'almost' cover.

February 13, 2010
0

found this helpful
But, you have to be careful not to cool hot Pyrex quickly. Maybe if you put them in a saucepan and simmered them (on their sides) they would let go.

February 14, 2010
1

found this helpful
After you get them apart, keep a napkin between them when stored in the cupboard.
Read More

Answers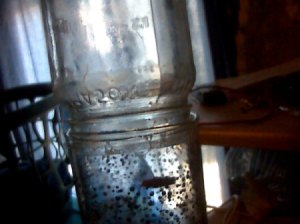 I was doing the dishes and when I pulled out two of them they where stuck together one facing the other, the openings together. I don't what to break either. We tried everything. Help.
By SR
Answers

March 6, 2014
0

found this helpful
Put the bottom cup in cold water, warm wet cloth on the top cup. Temperature difference should expand the top cup and they should come apart.
Read More

Answers
Published by ThriftyFun.
© 1997-2022 by Cumuli, Inc. All Rights Reserved.
https://www.thriftyfun.com/tf794879.tip.html