When my husband and I got married almost 5 years ago, I was halfway through college and he was making $8.50 an hour as an airplane mechanic. We had no idea what little money that was (about $1000 per month after taxes) but we ended up learning to live on it successfully.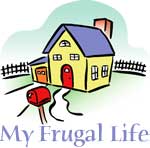 I had a part-time job--very part time, due to studying for college classes-- and made about $200 per month, which we had direct deposited into a savings account for emergencies. We rented a one room apartment (well, 2 rooms if you count the bathroom) over somebody's garage for $175/month. It had no central air conditioning or heat, just fans and a big heater that plugged into the wall.
After about 8 months, my husband was laid off due to downsizing in his company. However, he is very ambitious. He spent only one week officially unemployed. During that week, he was paid for his vacation time and did some work for people he knew and made what he usually made in a month. We thought we'd use that to hold us over until he found a job, but at the end of the week, he found one that paid twice as much as the one he had before!
Even though our income had doubled, we decided to keep our expenses low and only increase what we put into savings and what we paid for rent. We were sick of that tiny apartment! We looked patiently and finally found a nice one for $350/month. We lived there until I graduated from college and got a teaching job. At that point, our income doubled again now that I was bringing home a paycheck. We decided again to use the same budget for living expenses as we did when we made $1000 per month and look for a house to purchase.
We found a really nice affordable home near both our work places. Again, it took patience and careful searching. We have lived in our house for two years now and, over 5 years of marriage, have managed to put nearly $30,000 into mutual funds and an emergency savings account. Our only debt is the mortgage and my student loans, but the student loans will be forgiven eventually because I teach math and there is a shortage of math teachers.
Our trick is that our expenses have stayed low even though our salaries have quadrupled since we were first married. We own our own home, have cable internet, and have basic cable television. These are the only big lifestyle changes we have made as our income has increased. I buy groceries on sale whenever I can, I check the clearance rack first when I need clothing or something for the house, and I check freecycle daily.
And I use lots of tips from thriftyfun.com. We shop around once a year for things like phone service and car insurance to keep those costs as low as possible. We've never owned, or plan to own, a new car.
My husband tries to make as many connections as he can with people who own airplanes so he can get moonlighting work, and he works 2 hours of overtime each day that he doesn't have something on the side to do. We have been careful about birth control because we haven't felt emotionally or financially ready for children, but I think we are just about there.
Another important investment we've made is our educations. If I had quit college to go to work or have children, I would not have had as much earning potential as I do now. Now that we are financially stable, we are both planning to continue our educations to get master's degrees. We know that investing in ourselves will help us earn more in the future.
I think for young people out there, it is important to know to start saving early, before you have a lot of financial responsibilities (like a mortgage and children), stay out of debt, and get a good education to open as many opportunities for employability as possible.
Allison from Northeast TN
Do you have a frugal story to share with the ThriftyFun community? Submit your essay here: http://www.thriftyfun.com/post_myfrugallife.ldml