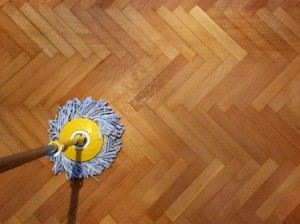 Ok everybody out there, what type of mop do you use? I am looking for some advice on a good one. I have been using the Libman mop where you pull this handle down and it's supposed to wring the water out for you, but it doesn't do a very good job, so I wring it out myself. What is a good mop to buy?
Thanks for any help,
Teresa from VA
Answers
By Darlene (Guest Post)
March 2, 2006
0

found this helpful
Best Answer
I have used the Swiffer but it doesn't seem to do as good as a job as I like. I will use it when I just want to quickly clean my floors But I end up on my hands and knees cleaning my floors - call me picky but I think the effort is worth it when I want a good clean floor.

March 2, 2006
0

found this helpful
Best Answer
I've tried sponge mops, swiffer wet mops (not the jet kind), scrubber mops, string mops with various cleaners; ammonia, pine sol, bleach water, mop n glow, acrylic shine cleaner, and I'm never satisfied. My floors don't shine, and often still have dirt in the textured linoleum we have!
So I use my sponge mop for every day cleaning, or the swiffer, sweep every night. Every so often, I hit the floor (huge!) on my hands and knees and use a rag and elbow grease. The last time I did this, I used Murphy's Oil soap with water and finally got the shine I've been looking for, but what a work out.
Still looking for an easier way.
By Jim Farrington (Guest Post)
July 11, 2007
0

found this helpful
Best Answer
I would caution against purchasing the Libman Nitty Gritty Mop. It works great, but I've had two and neither lasted over a year. The metal handle rusts completely through where it joins the plastic mop head. They replaced the first one, but refused to replace the second. Kinda dumb when you think of it. I was spending $60 to $70 a year on refills and now I won't buy any of their products.
By (Guest Post)
December 28, 2007
0

found this helpful
Best Answer
I use the Libman Big Tornado Twist Mop; you twist it and it clicks into place to wring out the mop so you never have to touch the dirty water or mop.

February 2, 2009
0

found this helpful
Best Answer
I use the new Shark 'steam' mop on tile and laminate flooring. It's great, works like a charm. No heavy buckets, no chemicals and no spills. Also, I don't have to go over the floor to get rid of suds or streaks.
Since it steams the floors, they're practically sanitized. I was able to buy it at Big Lots for $55.

June 5, 2010
0

found this helpful
Best Answer
I like the idea of the pvc pipe mop. I've had the Libmans nitty grtty dirt mop, a Mr clean wring-handle mop, some kind of white and blue old fashioned mop and a Sams club utility broom/brush. For cleaning power the broom/brush wins, since you can really scrub. However, like the rest of the mops, the handle bent, which means I have to replace it. I seem to have the wrong idea about mopping. If the floor doesn't get clean enough right away, I mop harder. Wood breaks, metal bends, and hilarity ensues. I'll try PVC next, and the towel.
Read More

Answers