When I left home at 18, I planned on working hard, saving money, and making it out in the big world alone.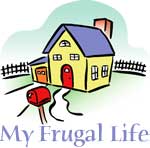 It didn't work that way. I met a man, got pregnant and got married. Needless to say, we were young and poor. He worked steady but didn't make a lot. He wouldn't let me because of the kids (yes, 2 in 2 years!), so this was the beginning of my frugal life.
After the weekends, the kids and I would go to the local party places for the teenagers and collect cans for extra change. I bought clothing and other things I needed exclusively from resale shops and garage sales. I hunted food bargains and bought in bulk when I could. School supplies were recycled by adding a new front to binders and notebooks with a lot of blank pages left. I cooked large meals and froze them into smaller portions to stretch things out when times were really tough.
One year we were severely strapped and the kids were 4 and 5 years old around Christmas time. We lived in a very small place with no room for a Christmas tree. So I found some plastic roping that looked like evergreen at a resale shop. I hot glued it to the wall in the shape of a tree that went from a foot off the floor to the ceiling. I filled it in with the remaining roping and then hot glued the lights on as well. I added a "trunk" made from brown construction paper at the bottom of the tree to the floor. I hung all the ornaments that the kids made and ones that we had from years past. When I plugged in the lights, it looked like a real tree! I got many complements on that tree!
As the kids grew, I did my best to provide them with what the needed, on a frugal budget. After my divorce, things got very tough, but we managed. Coupons, mac and cheese, and many inventive recipes helped. At least the kids never went hungry, though I cant say the same for myself.
I continued my frugal ways, teaching both the kids how to live without spending like their friends did. We lived in an affluent area, so it was hard for them, but they both understood and adapted. My daughter learned how to shop sales racks at nice stores for torn, damaged name brand clothing and repair them so that she could "fit in". My son simply never asked for more than I could provide. Now they are both grown, on their own, and living their own frugal lives. Both have told me that the lessons they had learned from me have helped them save money for the more important things, while not going without the things we all need to survive. That makes me feel good!
Being frugal has helped me see what is truly important in life. What we should spend money for and what we can get for much less with a little effort. It is my opinion that this should be taught as course in high school and college. We would all be better off if more of our children coming up realize frugality is not a bad thing. It's a blessing.
Now I am being blessed with a frugal wedding for under $300! Chapel, reception hall, food, and dress included! It is my hope that we all try to live a more simple, frugal life.
Dingybat from Vermilion, Ohio
Do you have a frugal story to share with the ThriftyFun community? Submit your essay here: http://www.thriftyfun.com/post_myfrugallife.ldml