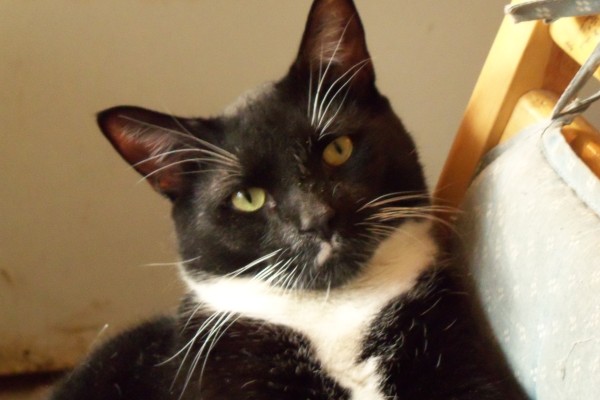 Snickers is a 4 year Tuxedo Cat. My 18 1/2 year old cat Pippi (Baby Cat) passed away on 9-30-07, and I was numb with grief and didn't want to get another pet for a while.
By Thanksgiving week, I was lonely for a pet and inquired about an older cat I saw in the newspaper. That cat had just been adopted, but the lady I spoke with learned that I like tuxedo cats. She told me there was a 3 month old tuxedo kitten at the town shelter, that she had rescued and put there for adoption.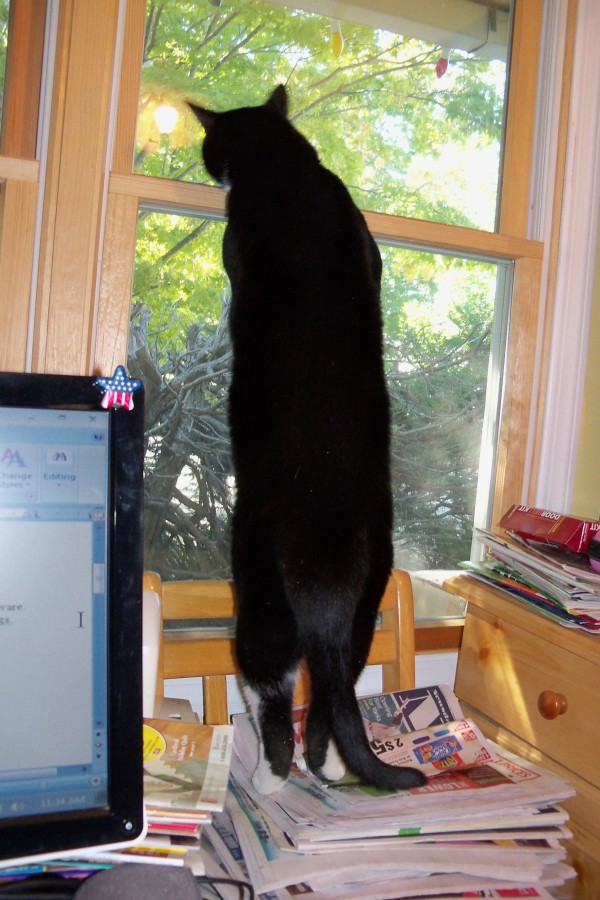 I went to see him and liked him immediately. She had placed him there with his brother. They were called Daffy and Donald (like the ducks). Donald had been adopted. I got Daffy, which fits him. I named him Snickers, but sometimes call him Daffy, too.
I named him Snickers because I had a tuxedo male who died in 2006, named Skittles. I wanted a name that was similar but different.
I love to play with words and names, so every pet ends up with a dozen nicknames, or more. Snickers is also called Snix, Snicky, Snicky-Snacky, Kitty Wacky, Wackenpuss, Kitty Baby (which I called him before I settled on his name), Fancy Pants, Silly Puddy and more. He doesn't care what I call him, he just loves it when I talk to him.
Snicky's favorite toy is a box - any box he can get inside of, curl up in, turn upside down in, and scratch up until it eventually falls apart. When he was a kitten he completely destroyed the cardboard cat carrier he came home in from the shelter! Now I bring him the empty cartons from 2 liter Coke bottles. A distant second favorite is the catnip carrot we received from I Love Cats magazine (a subscription gift).
Snicky is a big cat and a little overweight. I'm cutting back on handouts from my meals and may have to change his brand of cat food to a "diet" version. He's very sweet and affectionate, and I'm so glad I decided to get another cat. The only thing I regret is that he and his brother were separated. If I had seen them, I would have taken both.
A month after I adopted Snicky, I adopted an adult, gray, tuxedo female from a rescuer, so he would have company of his own kind. I always wanted a Russian Blue (she is at least part RB) and saw her picture in the paper. Her name is Daisy, and they get along beautifully. Of course they are both fixed and are strictly indoor cats.
One photo is a closeup of Snicky's face. In the other, he is standing on a pile of newspapers on a kitchen chair, looking out the window, which is his favorite thing to do when he is not playing with his box!
By Rose