By Betty (Guest Post)
June 11, 2008
0

found this helpful
What you are doing is great! Thank you! You may not know it but your actions can be inspiring others to do the same. My husband and I also pick up litter while getting our walking exercise and we keep the recyclables separated. I love getting paid for the aluminum cans.
When I saw your posting, I thought you may be interested in our bag holder idea. I have instructions on how to make this bag holder posted to this website. You can search it by typing in bag holder. It's listed "Make your own bag holder". Skip the part about the tubing. I posted a comment below stating that the tubing is not necessary.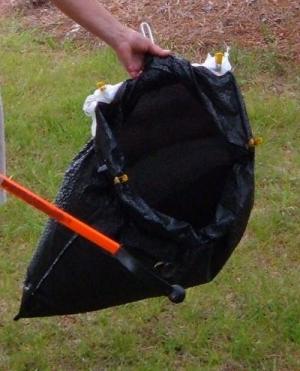 June 12, 2008
0

found this helpful
Great idea! Not only are you making a little money but those cans are getting recycled instead of going into a landfill....plus you're cleaning up your neighborhood as well!
Good for you!
September 12, 2008
0

found this helpful
My son and I collect and save cans. We keep them for a year then take to sell. My area last time paid us 72 cent a pound; not bad. Paying for bags to put them in takes away some of the profit. I've been using large bags I get when purchasing large items from dept stores but don't always have enough. Also, they take up a large amount of space in my garage, therefore I've been putting them in the backyard against the fence.
Problem there is the sun eats at the bags on top and cans fall to the ground. There is a lot of cans so purchasing large trash cans is not an option. The recycling center is not close by so taking them in small batches is not something I want to do. How do the rest of you make the process easier and more cost effective without buying bags? What do you store them in and how do you protect them from the sun? Thanks
By (Guest Post)
January 9, 2009
0

found this helpful
TxBetty: I also pick up aluminum cans while walking. You can store a lot of aluminum cans if you flatten them first. To crush, I mash them in the middle and then crush the ends until the can is flat.
Maybe to save space, you could store them in large cardboard boxes or plastic containers. Wait until you get ready to take them to the recycle center to bag them. Wow! Getting 72 cents a pound is well worth the effort of picking them up and it keeps them out of the landfills.
Also makes our streets and roads look better.
Sure do wish people who drink beer would buy it in the aluminum can when they know they are going to pitch the container out on the road. Picking up those glass bottles makes the trash bag so heavy when you are picking up litter.
To help with this problem, I take the glass bottles out of the trash bag and pile them beside a sign post and get them later so they can be recycled.