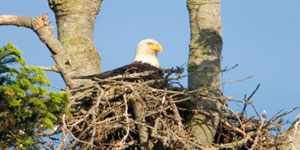 Question:
I have bird nests in some of my trees that were left over from last year. Should I take them down, or will birds use them again even though they didn't make them?
Hardiness Zone: 6a
Peg from Springboro, OH
Answer:
Peg,
I would recommend leaving the leftover nests in your trees intact for the coming season. Some birds (especially raptors like hawks, osprey and eagles) return to the same nest year after year. Each year they continue to expand on the previous year's efforts. Over time, this can lead to some incredibly large nests (FYI: The North American record for an Eagle's nest is 20 feet deep, 10 feet wide and weighs in at nearly 2 tons!)
In the case of garden-variety birds, the American Robin and Baltimore Oriole, often build new nests in very close proximity (sometimes side by side) last year's nests. Occasionally, Robins will also use a nest from the previous season as a foundation to start a new build, unless invading parasites have rendered them unacceptable for raising young. Other birds, like nuthatches, take advantage of nests in trees that have been abandoned by other birds.
Birds build nests in a variety of places-in tree branches, hollow cavities, even underground. They use a variety of different materials to build them, so even if no birds return to occupy the last year's nests, many may take advantage of the readily available stockpile of left behind building materials.
Happy bird watching!
Ellen
By DEBRADJ. (Guest Post)
March 12, 2008
1

found this helpful
Don't take them down. Birds will reuse old nests. I have tons of birds and birds nests in my yard and they are better recyclers than humans!
If they don't like the way a nest is, they will use the materials of the nest to make their own.
By Ellie. (Guest Post)
March 12, 2008
0

found this helpful
It really depends on what sort of birds they are. Some birds will happily renovate and repair last years nest to use again, some birds prefer to locate to a new site and start from scratch again.
You could find out by oberving them when they start to nest again in Spring. Do they seem to be showing interest in the old nests, or just ignoring them?
I'm in Australia, we have perigrine falcons who use the same nest over and over again, just cleaning it up and adding new material.. absolutely amazing, they have found pergrine nests that are actually hundreds of years old.
March 12, 2008
0

found this helpful
Oh please don't take them down! I have doves that come back every year to the same nest.
If it needs repair, they dive right in and spruce it up before moving in.
By reader (Guest Post)
March 12, 2008
0

found this helpful
Depends on the bird, some will continue to use old nests year after year . More info can be found at the library or at birding sites (my daughters love to birdwatching & learning about their strange ways).