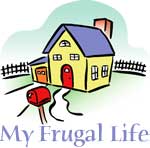 There is nothing better than something cold in the hot weather, and ice cream fills the bill for us! I frequently plant pinto beans in these wonderful containers. As you can see in the picture, they are so adorable.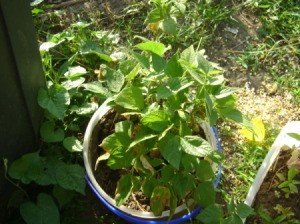 I move them around as I need to. I find them easy to punch holes in, and they are easy to label with a permanent marker.
I also use one of these ice cream containers to sift dirt from the garden when I am ready to plant another bucket of beans. If you poke holes in the bottom, the smaller the holes, the smaller the dirt will be that comes out of it. My sifting buckets have holes in the bottom of about an inch around. Any clumps of dirt that come through are easily pulled apart when I mix it together using recycled utensils from the kitchen or a sturdy stick or branch. I like my dirt to be soft and not packed. Packed dirt won't grow well, as I have found out before.
Of course, I use mine for a large amount of different seeds, and as you can see they are holding down the chicken netting around Phoenix's play area (Phoenix is a house rooster).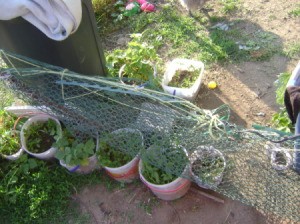 The ice cream containers are very useful for a number of other things around the garden also, such as dipping out water from my rain barrel which is really just a trash receptacle strategically placed at a broken gutter that happens to be by my garden. Everytime it rains, Voila! Water for the green beans! Plastic tubs work just as well too. Watch out for small children who like to go play in any kind of standing water. Kids could fall head first into a tall kitchen sized garbage receptacle. My yard is fenced and I still watch it.
I also like using old clear soda bottles for putting the seed packet upside down in then sticking the open bottle in a branch. It protects it from the rain, and you can see into the bottle to see a photo of what you planted.
Every time it gets warm, I place a two liter soda bottle high over my animals water bowl, with holes placed in the bottom, about two inches from the bottom of the soda bottle. It is too hard to punch holes in the actual bottom of the soda bottle. I punch the holes on the same side, so they will not over shoot the water bowl. It makes a little water fountain over the water bowl. I like the sound of it also. This also works when you set the bottle on two rocks and let it leak out onto the plant. I usually carry a teapot full of water to pour in the bottle once I have it set up.
One of my favorite things to do is place a square of heavy plastic on the ground and surround it with rocks. Blue plastic looks like the ocean, and clear plastic hides the fact that it is there. The rocks anchor it down and then I push a little on top and make it uneven. Then when it rains or I place a 2 liter bottle above it by tying it on a string from a tree or setting it up with rocks, then it makes a little bird bath and it attracts birds.
I have three fire pits in my yard, mainly because the dogs run around them and at their age of eight they need them to keep fit. They are circles, and they are dug down a little, and I can put an old oven rack on top of the hole I have dug. I have pretty large fire pits and the oven rack does not cover the whole thing.
I also have an old popcorn tin that I can burn little things in. I keep it out of the way when I am not using it. The fire pits are an area of interest, but lately I have been only burning logs in the fire pit or else cardboard since a lot of toxic fumes can come from trash.
I am always taking apart box fans to either clean the grates or to recycle them. We use them in the Summer and Spring to keep cool as we have no central air conditioning. I have one metal box fan housing that is acting as a fire pit. It is placed inside a circle of rocks. I can also use it for a flower garden and fill it up with dirt and then there you have a little flowerbed for flowers.
I like to use anything that I can in my recycle-garden. There is really no end to the things you can use to decorate your garden. Gardening this way is one of my favorite things to do, and I started it when I read about a Freedom Garden on this site.
Blessings and have a great warm gardening season!
By Robyn Fed from Tri-Cities, TN
Do you have a frugal story to share with the ThriftyFun community? Submit your essay here: http://www.thriftyfun.com/post_myfrugallife.ldml