It is almost funny to us, to hear these people on the news talking about the recession and how they are losing their homes and can't buy the things they want anymore.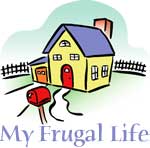 I just don't have the sympathy for them I guess. I grew up with money, my parents always keeping up with the Joneses. But we were so unhappy as a family. I decided to do it completely different.
We have 6 children, I have not worked outside the home since the first one was born. We bought a house that we could afford. Paid it off, we fix it up a little each month. I have stockpiled food for years, So we eat well. We have a garden in town, a large one this year. I'm excited about that. We just don't feel the recession.
Yet those who are complaining, I still see squandering their money, buying big TV's, just buying whatever at the grocery store, paying no attention at all. It is hard for me to feel sorry for them. They just still don't seem to be learning from any of their mistakes. They still sigh at me in the grocery store for taking too much time in line with my coupons. I do feel good that I'm sending 6 kids out into the world without the keep up with the Joneses attitude, My 4 year old twins always ask if I have a coupon for this or that and, if I don't, they put it back, YEAH! My 18 year old's friends now come to me for coupons for their makeup or groceries, or call me about sales, or whether or not something is a good price or worth it.
My point of this is we don't feel the recession. If it gets worse we still won't feel it. Of course, we are not envied for the largest newest house, or how my kids wear the latest styles, or how we eat out all time. But people are amazed at how we only paid $5000 for our 2500 sq. ft 110 year old house, and how we fixed it up with little money, how our garden is, and how large our food stockpile is. They never complain about the homemade bread I send home with their kids.
Wake up America! Take your kids to the park, or plant a garden with them. They want that way more then another game system that they can sit and stare at for hours on end. Play a game of Monopoly. Spend hours getting excited about the coupons you have all cut out together instead of talking about how much stuff your kids have and your credit cards are maxed out and how you are losing your house.
Michelle from Independence, Kansas
Do you have a frugal story to share with the ThriftyFun community? Submit your essay here: http://www.thriftyfun.com/post_myfrugallife.ldml