June 6, 2008
0

found this helpful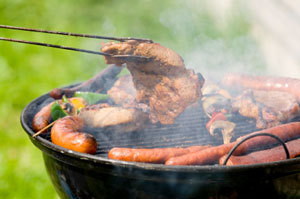 It's grilling season! Here is some advice from the ThriftyFun community. Do you have any tips for saving money on grilling food this summer? Post your ideas below.
Don't Waste The Heat
We cook with charcoal, we will grill until all the charcoal pieces have burned down. I make foil packets for veggies and potatoes (I can make a great grilled potato salad). I also cook way more food than we can ever eat and then package and freeze it.
For example, I'll grill up the entire package of hot dogs and my sons will eat 1 or 2 each. The rest are stored for quick weekday lunches or snacks with that great smokey flavor. Leftover grilled chicken is used often on salads. Any leftover meat can be used in stir fry or soups easily. I get a lot of my meat at Costco, which has good prices and wonderful meat.
By Jess
Ask Your Butcher For "Scraps"
Our butcher sells meat "scraps", small cuts of meat left over when trimming bigger cuts, for less than a dollar a pound. I buy these to use on the grill with veggies as shishkabobs.
Marinate Cheap Cuts In Beer
You can get away with using less expensive cuts of meat, if you marinate them with beer for an hour or so before grilling. It helps break down and tenderize the meat, and leaves a wonderful flavor. Don't worry about the alcohol, it all cooks away leaving only the flavor (and no, it doesn't taste like beer ). You can also use barbecue or other sauces for basting the meat on the grill after the "beer bath" Yum yum yummy!
By Jana
Make Your Own Charcoal Starter
You can save money on charcoal by using an empty 2 pound coffee can as a charcoal starter. First, cut both ends off the can. Then, using the pointed end of a can and jar opener, punch holes all around the bottom end--each hole can be about 1/2 inch apart. Using a pair of pliers, squish the metal you punched out to the inside of the can, so that there are no sharp edges to deal with. Your handy dandy charcoal starter is done, but you may want to punch a small hole at opposite sides on the top and insert a thick wire and loop it over the can to make a wire bail or handle to lift it with.
Place your charcoal lighter on the grill that holds the coals. Now, put a sheet of crumpled up newspaper (I've used dryer lint in a pinch) in the bottom of the can, fill the rest of the can with charcoal (you don't have to use the easy light stuff, just regular inexpensive charcoal), and light the paper through one of the holes on the bottom.
The flames will work their way up through the charcoal, effectively lighting every piece. Leave the charcoal in the can about 15 minutes, or until all coals have white ash on the outside. Lift the can off and distribute the coals for cooking. Make sure to use a hot pad or oven mitt or a pair of pliers when removing the can, as it is really hot! No icky taste of lighter fluid, and no danger of a child getting little hands on the toxic liquid.
If you have a large grill and need more coals, add another coffee can on top of the other one--no holes need to be punched in the second one, or use more than one starter at a time.
By Patty
Cut Steaks Into Strips For Serving
I cut my steaks in strips, that way people can take as much or as little as they want. I found that there is less waste. I also make a few different types of salads. People want a little of everything and less of the meat. This works for me.
By EVY
Buy Meat At Sam's Club
We only buy that meat that we grill at SAM'S. We also grill extra for eating throughout the week, makes it all worth while!
SAM'S has the best meat for the lowest price, unbelievable deals! Yes, I have to repackage when I get home since there's just two of us but we share in that work and are ready for it before we go to SAM'S. This means correct packaging materials and enough of them. Once you've gone to SAM'S, you won't go back to your local grocery store. We would not even be BUYING meat to grill if we did not buy at SAM'S. It's just too expensive at the Publix or even Walmart and Walmart does not have the same quality as SAMS. It's the way it is!
Before you grill, plan to shop smart. Then your budget will be easy to live with if you've correctly done your homework!
By lynn
Early Morning Markdowns
I agree that Sam's has great meat. I've noticed that when I get there early in the day they've marked down some packages of meat, making them super deals. Their boneless pork ribs are out of this world! We use Dale's Steak Seasoning to marinate more challenging cuts of meat. Also, let the meat get close to room temperature before grilling and cook it slowly. Happy Grilling!
Feel free to post your summer grilling tips below.
June 29, 2005
0

found this helpful
Tips for grilling meat. Post your ideas.
Answers
April 11, 2005
0

found this helpful
To make the most of your meat purchases, this summer. When grilling, use tongs to turn your meats rather than a fork. The fork holes in the meat allow the natural juices to escape thus leaving your meat dry, tough & tasteless.
When grilling out, if using charcoal. Light the coals & wait for them to get hot & white, spread them evenly on the fire rack. Sprinkle in more charcoal as needed to keep the fire at an even temperature.
Happy Grilling!
By T.H.
April 11, 2005
0

found this helpful
Use Wishbone Italian dressing for pork chops and chicken for marinade. It makes meats tasty and tender. The flavor is exceptional. Marinate in a ziploc bag for up to 24 hours in the fridge or you may freeze in the marinade and thaw in the fridge and the meat marinates as it thaws.
Great tip for grilling.
Linda
April 12, 2005
0

found this helpful
I parboil all my chicken and ribs before putting them on the grill. This ensures that they will be done before they are burned. Saves time too, because I parboil, package and freeze. So they are always ready to grab and by the time the charcoal is just right, you can have them thawed using the defrost cycle on your microwave. Also wait until the last few minutes to brush with BBQ sauce. If you add it too soon, it just burns.
Harlean from Arkansas
May 27, 2005
0

found this helpful
One of my favorite rubs for grilling meats is prepared yellow or brown mustard. Just rub the meat with the mustard and let sit overnight (in the fridge). Throw on the grill with the mustard still on it. Your meat will have a nice flavor but not a mustard taste. (I don't normally eat mustard)
June 29, 2005
0

found this helpful
When preparing to BBQ or grill (it's called different things in different places) and you have your meats in a marinade. It's ok to pour the marinade from the container or baggie onto your meat as it's being grilled.
Once your meats are ready to take off the grill, do NOT pour any leftover marinade over the meat, before serving, until you've been able to cook the marinade, on the stove.
You'll be saving your self a trip to the hospital. The marinade still has the bacteria of the raw meat in it. Cook it in a sauce pan on the stove to the boiling point. Then you can serve it with your meats.
By Terri
By Don Spencer (Guest Post)
July 30, 2005
0

found this helpful
Would like a chart showing heat range for cooked status for all kinds meat..
Answer

this Question

...